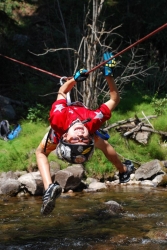 Vail, CO, April 28, 2014 --(
PR.com
)-- Registration is under way for the 2014 Kids Adventure Games, the premier race for children ages six to 14 that features teams of two competing in mountain biking, hiking, zip lines, a Tarzan rope swing, cargo nets, mud pits and more. The race is scheduled for June 21 at Snowbird Ski and Summer Resort as part of a new, exciting eight-race series, the Kids Adventure Games, taking place at various locations across the nation. Event details are as follows:
The race will take place on Saturday, June 21 from 8:00 AM – 6:00 PM. The exact race course is kept a secret until race day. Kids will be given a map and must navigate their way through the course. Parents are encouraged to watch and cheer on their kids from the sidelines. The course is a parent-free zone.
To accommodate different racing abilities, younger or beginner racers will compete on a short course. Older racers will compete on a longer, course with more challenging obstacles. Cost for the race is $120 per team of two through June 1. After that date, the cost increases to $150 until registration ends on June 14 or the race is full. Last year's race in Vail sold out with a 30 team waiting list, so racers are encouraged to register early. Online registration is available on www.kidsadventuregames.con.
Clinics will offer opportunities for racers to learn and improve their skills on Friday, June 20. Clinics feature teamwork, race-day preparation, climbing and mountain biking. Clinics also sold out during last year's event so early registration is encouraged. Cost for the clinics is $50 per child.
Participants must register as a team. Teams are encouraged to create a fun name and crazy uniform. All participants will receive cool SWAG from the event sponsors.
Kids Adventure Race organizer and international adventure racer, Billy Mattison, says the races 
emphasize teamwork, problem solving and fun. "The idea behind the race is to create an event that has all the fun things we dreamed about as kids," said Mattison. "By putting zip-lines, slip-n-slides, rope bridges, tubing, mud crawls and anything 
else we can dream up, the kids have a true adventure and an incredible time. We want the kids to cross the finish line pumped up with smiles on their faces and a feeling of accomplishment."
He says he's thrilled to take the event to Snowbird and allow kids the opportunity to challenge themselves and their friends. "Snowbird Ski and Summer Resort is a perfect venue for the Kids Adventure Games and we are proud to partner with them this summer. They share our goal to provide kids the opportunity to learn, grow, thrive, be adventurous and most importantly, have fun."
About the Kids Adventure Games: The Kids Adventure Games was founded in 2009 by Hélène and Billy Mattison, with one event in Vail. After five successful summer events, NRG Marketing joined forces with the Mattson's to expand the Kids Adventure Games on a national level.
For more information on the Kids Adventure Games go to
www.kidsadventuregames.com
.