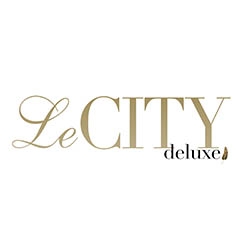 Miami Beach, FL, April 24, 2014 --(
PR.com
)-- Friday April 25, 2014 Le CITY deluxe Magazine will be celebrating its 1 year anniversary and the launch of their latest Fashion issue featuring Charlize Theron. The event will be taking place at, 520 West Avenue, Penthouse Bentley Bay, Miami Beach, at 7pm-11.30 pm.
In the past year Le CITY deluxe took the Magic City by the storm and made waves with remarkable editions featuring superstars such as Dwyane Wade, Lebron James, Robert Downey Jr., David and Victoria Beckham.
Special performance DJ LIVE 7.pm-11.30 pm
Under the direction of acclaimed Van DYKE music director Randy Singer, his new concept DJ LIVE sets the tone of the event - Live performance to acclaimed DJ´s spinning Happy house. A show stopping performance by DJ Daneon, ultra favorite DJ Spin, DJ Aladdin, Giselle Flute Trance, Saxophone player Leon Fubar and Bongos with Andrea Brown and Natasha Haynes as vocalists.
Fashion show by iconic Miami celebrity LeiMarco, 7.30 pm
LeiMarco's fashion events have always maintained their status as some of the most glamorous and inspiring events in the industry with a combination of cutting edge fashion and an eclectic mix of surprise effects, like his latest Art Basel triumph at SLS sporting a burning baby carriage to signify his rebirthing.
Performance and Special guest Appearance of Kevin Lyttle feat Shaggy 8pm
Le CITY Deluxe has secured a special appearance with Music star Kevin Lyttle who had a worldwide hit with "Turn Me On", recorded with the dancehall artist Spragga Benz. They are proud to announce that he will be performing songs from his upcoming album with Shaggy which he will launch in the next couple of months.
After Party Adoré 11.30 pm - open end
Come and join Le CITY Deluxe for the official opening of Adoré, Miami Beach's hottest new night club. They have reserved the upstairs area for their guest, with reserved VIP tables and complimentary bottle service for theirr sponsors and clients. Inspired by a forgotten cathedral's fall from grace, Adoré is an experience of sensuality and intrigue. Bus shuttle and Limousine service is provided to the venue. 2000 Collins Avenue Miami Beach, FL 33139
About Le CITY Deluxe
Le CITY Deluxe is a world-wide luxury lifestyle magazine with print editions in India, Russia, Spain, Turkey, and USA, along with a Worldwide issue featuring highlights from all the issues. Le CITY Deluxe USA edition is based in Miami, and focuses on the South Florida area.
About Claudia Trimde, CEO
Claudia Trimde has a Master's degree in Business Management (Glasgow University Honours MA and University of Miami) and a solid academic background in Global Marketing and Communications. These academic tools have allowed her to obtain ample experience. After years of education in the editorial and entrepreneurial fields, in early 2007 she edited "Barcelona deluxe", the first luxury magazine in Barcelona, published both in Spanish and in English. In 2010, and in response to the success of Barcelona deluxe, Claudia Trimde created Madrid deluxe, broadening the frontiers of the publication and penetrating the market of Spain's capital city. In the same year, and as a consequence of her constant search for new challenges, Claudia created Le CITY Deluxe Group, a prestigious and comprehensive Luxury Social Club whose main objective is to offer a platform for international members so that they can make contacts and access new business opportunities. Hardworking, creative and with incredible communication skills, Claudia Trimde is currently embarking herself in new projects, and visualizing new horizons that will allow her to look satisfactorily back, and forward, into a prestigious, solid, renowned professional career.
Claudia Trimde says: "I am extremely honored to feel such warm embrace that South Florida has offered Le CITY deluxe USA on our first year on the market. I am looking forward to many more editions and future collaborations with such diverse and talented community like we have here in Miami."
About Marius Koller, Vice President
Marius Koller joined the worldwide publishing GROUP Le CITY deluxe as the new Vice President of Le CITY Deluxe Magazine. Mr. Koller brought an extraordinary set of qualifications adding to the successful luxury publication group's solid plans to expand the publication within the United States. With a background that encompasses luxury real estate, marketing, nightlife operations, event production, Mr. Koller offered his expertise beyond his traditional experience by having managed and co-published an international Lifestyle Magazine.
As the founder of De luxe Realty Partners specializing in commercial and residential real estate, closing hundreds of deals backed by "Transnational Referral Certification," Marius Koller is considered one of the most respectable realtors in South Florida.
Marius Koller says: "This one year anniversary marks not only the successful year of Le CITY deluxe group in Miami, but it also signifies the many years to come."
For more information, please contact:
Lera Gavin
editorial.usa@le-citydeluxe.com
www.le-citydeluxe.com