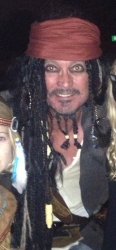 Hartford, CT, April 29, 2014 --(
PR.com
)-- It was a cool Connecticut Argentine Tango evening and a very cool event put on by the Hartford Argentine Tango enthusiasts at HartsTango. Everyone was decked out at this costume Milonga.
"Argentine Tango is a dance that is connected to the family of Ballroom Dances, however, the relationship could be said to be like how Jazz is related to Big Band. Tango is a very free and improvisational dance whereas the Foxtrot, often done to Frank Sinatra style music is more structured. Tango events by nature are highly improvisational and when a group gets together for a Costume Milonga, or, dance event, you can expect the unexpected, such as every manner of extravagant costume from Margarette Meade to Jack Sparrow, to Ben Franklin, to Rumplestiltskin, to Gooney Bird, and even Walt Disney himself (well, his likeness)," says Jim Hughes a student at Hartford Argentine Tango. Check out these party goers comments below:
Nate Evans, Hartford Argentine Tango teacher from Hartford Ballroom had a scary zipper on his face. Muna, from HartsTango, was dressed like an archetype of everyone's grandmother. "There was a pharaoh looking dude and a guy who appeared to be dressed up like a large black man whose wife called him Papa Bear, actually, 'Papa Bear' wasn't wearing a costume, he was actually a large black man and his wife actually calls him Papa Bear," claimed "Baby Bear," their girl-friend. Jack Sparrow swaggered in, a bottle of rum under one arm, and in the other, a white Unicorn. Someone in the crowd said "What? A pirate doing Argentine Tango? Who would ever guess that years at sea would be the best preparation for Tango?" "The women are swooning over this freaking guy," says a man who requested his name not be used. "He's pissing me off..." And a young woman named Cleo, laughingly chimed in "that's not even the half if it, I think my boyfriend has some kind of 'man crush' on him too." Two men followed him about as he asked women to dance, apparently, as a means of learning his secrets. "Its true, I saw it," says Margaret Meade who also noted aptly, that he was stumbling around and taking every pause to get to his point, Sparrow was often heard saying "Have you ever bean with a Pirate?" and "I have bean at sea a very long time." "Women were apparently mesmerized by his manner or maybe his lack thereof, he dances as he walks," stated Gooney Bird. "Yes, he was unsteady and whirling about like a cross between Captain Morgan and a Slurried 60's Rocker at Carnival," said Rumplestiltskin. Sparrow was asked by Little Bo Peep where he learned to Tango and he spewed some Jib-erish. He said it was "JIB, Jib-ersih, as in the sail, the sail on a Pirate ship," reported Ben Franklin, an obvious keen observer of the not so obvious, and he continued on about "time at sea being mostly very boring and that a Pirate must do something to occupy his time." Dorthy Flannelpants said: "He learned to dance at Hartford Ballroom, not at sea, that Pirate story is ridiculous." In the end, Jack Sparrow won the Prize for best costume which he accepted with little grace saying only: "Scurvy Dogs... Eyes not wearing a costume, where's my rum?"
It is not certain as to whether or not the likeness of Jack Sparrow will be welcomed back to future events. However, he is available for appearances, especially bachelorette parties, when not busy dancing on the Hartford Argentine Tango scene. Go to
hartford-tango.org
for more information on Argentine Tango, Pirates, Prizes, and assorted Treasures which may be found in the Heavenly Embrace of Tango. Listen, in case you missed it, he won the Prize for best costume... but the press release here is also informing everyone, he was not actually wearing a costume.