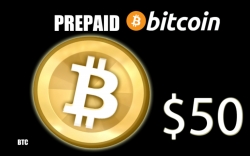 Toronto, Canada, April 28, 2014 --(
PR.com
)--
Prepaid Bitcoin cards
are priceless for new adopters of bitcoin and are redefining the possibilities of being able to give someone the gift of bitcoin. Before the company came around there were limited user friendly ways for people to get involved in cryptocurrency. Gifting with Bitcoin had also proven to be challenging as the currency itself is digital and not tangible. Most recently, Bitcoin ATM's have been in the media spotlight and are advertised by some as the easiest way to get bitcoin. While the ATM's have their place with regular bitcoiners and technologically savvy first timers, for the remaining 98% of the population Prepaid Bitcoin cards are proving to be a more comprehensible and simplified option.
There are additional benefits to using Prepaid Bitcoin cards versus buying from a Bitcoin ATM. One of the first advantages takes place when somebody decides that they're ready to buy some bitcoin, wherein they tend to have a specific dollar amount in mind. Their thought process might go like this: "I'm not too sure about the risks involved but I would like to buy a manageable amount of bitcoin. Let's say, $50 worth of bitcoin." They're probably not thinking "I want to buy 0.05 bitcoin." With a dollar amount in mind, they go looking for a good price for that bitcoin and unless they're comfortable meeting a seller face to face they're probably going to have to get it from a Bitcoin ATM.
Everyone wants to do their best to buy their bitcoin at the lowest price they can and either hold them or sell when they're worth more. But Bitcoin ATM's track the value of bitcoin in real-time. In order for someone to speculate or benefit from lower prices they would literally have to stand in front of the ATM and wait for the price to reach a level they think is good and buy at that exact moment. Unless they have a Bitcoin ATM in their living room, it's going to be hard to take advantage of a sizeable pull-back in the virtual currency price if it occurs in the evening or while they're at home.
Prepaid Bitcoin cards
are different because they allow people to buy "$50 worth of bitcoin" and either use it right away or hold onto the card indefinitely until the price is at a level that they feel is good. Then, and only then, they activate their card and receive their bitcoin at the current market price. Users can opt to receive the digital currency directly onto their card or may choose to deposit their card balance into their personal Prepaid Bitcoin wallet and use it for making purchases online and in-store.
The cards come in a recognizable format so people aren't spooked by the tech jargon or the scary concept of "virtual money." The cards also come in stored value amounts of $10, $25, $50, and $100, which are realistic for most people. The company also permits custom branding on their cards with the ability to add logo's and card-holder names for a more personalized touch.
Prepaid Bitcoin cards are sure to make an amazing first impression. They're composed of high quality credit card grade PVC with top notch security features. This coupled with the ease of use factor makes Prepaid Bitcoin cards the no-brainer choice for casual users of bitcoin as well as for those wishing to give away bitcoin as a gift.