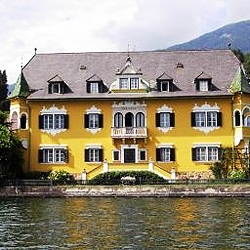 Millstatt Am See, Austria, May 01, 2014 --(
PR.com
)-- Relive Millstatt's remarkable history and discover the wonders of the majestic olden days as Hotel See-Villa celebrates its 130th founding anniversary with an array of luxurious holiday offers this Summer 2014.
Golf aficionados are in for the ultimate golf holidays with See-Villa's calendar of sporting events packaged with luxurious stay. The Golf Challenge Murstatten and See-Villa is slated from the 7th to the 11th of May. The 15th See-Villa Golf Trophy Millstatt, the hotel's annual event and Millstatt's most awaited competition, is happening from the 15th to the 22nd of June.
Luxury Golf Breaks and Golf Weeks Stay & Play Holidays inclusive of green fees, signature golf balls, luxurious accommodation and sumptuous gourmet offers are likewise slated in the months of May and October.
Also famed for hosting exciting Bridge tournaments, the See-Villa also unveils a unique set of promotion that invites card players to explore golfing adventures and an indulging culinary experience like no other. "Bidge, Golf & Gourmet Getaways" with world champion Reiner Marsal is on the offer from May 17 to 24; and with Klaus Peter Heinrici happening in three installments: May 24 to 31, May 31 to June 7, and June 14 to 21.
Sports Holidays highlighting exciting water sports activities on the beautiful Millstatt Lake await the thrill-seekers and ensure adrenaline rush in the height of summer. Beauty retreats and blissful pampering vacation packages are sure to delight both business and leisure travelers with See-Villa's awe-inspiring wellness facilities, signature massage and beauty treatments, and strategic location that offers a private oasis with direct access to the lake and panoramic views of Millstatt's enchanting landscapes.
Founded in in 1884 by Millsttat's honorary father Rudolf Schürer von Waldheim who transformed an ordinary lake town into a historic summer destination in all of Austria, See-Villa features 42 luxurious rooms and suites, wellness facilities that ensure blissful pampering, function rooms and banquet facilities for social events and intimate gatherings, impressive recreational and sports facilities, bars and restaurant with unparalled views of the lake and enchanting surrounds, decadent gourmet offerings, verdant manicured lawns and lush greenery and a private beach with direct access to one of the world's cleanest lakes.
Hotel See-Villa was built by renowned architects Mayreder and Kochlin, artificers of the Establissement Ronacher in Vienna. It was the first hotel by the Lake Millstatt and has hosted nobilities and elites of the Austro-Hungarian Empire.
Exclusive anniversary events are slated. Hotel bookings are accepted via http://www.see-villa.at or email at see-villa@hotel.at.