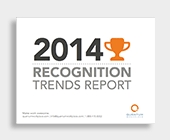 Omaha, NE, April 30, 2014 --(
PR.com
)-- Quantum Workplace released its 2014 Employee Recognition Trends Report, revealing recognition findings among the nearly 5,000 organizations and 400,000 employees that participated in Best Places to Work last year. The report analyzed employees' preference of 11 different types of recognition and the frequency at which each were received. The recognition findings were segmented across eight unique demographics—including gender, position level, age, and race—in order to give a more in-depth view of recognition nationwide.
Overwhelmingly, a pay increase ranked as the most important form of recognition for the third year in a row across all Best Places to Work participants. According to the report, 60 percent of employees said a pay increase was the most important form of recognition; however, almost half of all employees believed they didn't receive it enough.
Other highlights from the report include:
· Engaged employees were more likely to prefer learning and training opportunities as a form of recognition, while disengaged employees preferred compensation and time off.
· Employees in higher levels of organizations were more likely to say they received the right amount of recognition than those in lower levels.
· Women more often reported receiving too little recognition on nine of the 11 different types, compared to men.
· Employees in sales were 23 percent more likely to receive the right amount of recognition, compared to other departments.
· As an employee's position in the organization rose, praise from senior leadership became more important.
· Millennials preferred promotions more than any other age group.
· Gen X employees reported receiving compensation-based recognition too infrequently, compared to millennials and baby boomers.
· An employee's likeliness to receive the right amount of recognition increased as education level increased.
· Employees without a high school diploma were four times more likely to say they received too much recognition, compared to employees with a high school diploma or more education.
· White employees were more likely to receive the right amount of recognition, compared to all other race and ethnic groups.
Released by Quantum Workplace, the 2014 Recognition Trends Report analyzes employees' perceptions of recognition, what they prefer, and how often they receive it, and it examines differences among a variety of both personal and organizational demographics.
To view the complete report, visit: www.quantumworkplace.com/2014-recognition-trends/
About the Survey
Developed in 2003, the Best Places to Work survey is a voluntary and free survey tool offered to participating organizations. Survey results analyze 10 components of engagement and highlight 37 key survey items that impact engagement. Best Places to Work is held annually in nearly 40 cities to recognize companies that value talent and high engagement. The survey focuses on areas of engagement relating to teamwork, trust in senior leaders, retention, job satisfaction, manager effectiveness, and more.
About Quantum Workplace
Quantum Workplace delivers smart tools for achieving and recognizing workplace awesomeness. When work is awesome, employees are engaged, clients are loyal, and business is good. Quantum Workplace serves more than 5,000 organizations annually through employee engagement surveys, action-planning tools, and leadership assessment. For more information, visit www.quantumworkplace.com or email info@quantumworkplace.