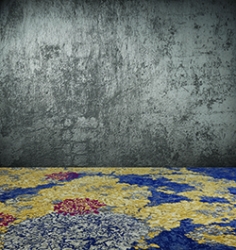 Las Vegas, NV, May 03, 2014 --(
PR.com
)-- Renowned custom carpet manufacturer 1956 by Tai Ping, proudly announces the global launch of Revive, its latest anthology, designed expressly for the hospitality trade, in a visionary new collaboration with acclaimed British street artist Paul Curtis – better known by the alias, "Moose."
With a stunning range of design motifs, the Revive collection draws its inspiration from Moose's innovative method of "reverse graffiti," which involves meticulously cleaning and removing layers of dirt and other natural discolorations from existing surfaces, to create images in striking relief.
However, in an ingenious twist on this subtractive approach, Revive embellishes rather than peels away, via a three-level design process that features complementary foundations and layers created by 1956 by Tai Ping in the style of Moose's work. These two layers are then highlighted by one of several overlay finishes designed by the artist himself.
These three distinctly combinative layers are marked by a sophisticated color palette that is refined for a global scale, enabling design variations suitable for any region.
Revive's unprecedented three-layer approach empowers hospitality designers to customize with more freedom and versatility than ever before, even as its motifs retain an unmistakable consistency that bears the singular vision of one of today's most groundbreaking artists.
As with all Moose's art, the interplay between the primeval and man-made worlds is a central theme to the collection, marked by designs that metaphorically illustrate nature's inevitable and unstoppable reemergence in ancient and neglected spaces.
For Moose – an artist more accustomed to creating large-scale works in such far-ranging settings as grimy industrial spaces or moss-covered sea walls – the collaboration represents a first-ever venture into designing a product for commercial use.
"I'm delighted to be working alongside 1956 by Tai Ping to create a collection as exquisite and intricately patterned as the natural surfaces I normally work with," said the artist. "It's been an enormously enjoyable process."
The resulting collaboration has brought forth a collection that blends traditional floral carpet motifs with cutting-edge designs, to present a bold and breathtaking fusion between the classical and the contemporary, as well as the organic and the industrial.
About 1956 By Tai Ping
1956 by Tai Ping is the manufacturer of choice for the world's most discerning commercial hospitality projects. A renowned provider of custom carpet to the hospitality market, the brand is synonymous with superior quality, durability, and service, and features woven Axminster, Hand-tufted and Machine-tufted carpets, and carpet tiles. The company also carries ISO 9001, ISO 14001, ISO 18001, CRI Indoor Air Quality Green Label certification, and NSF140 Platinum accreditation.
www.taipingcarpets.com/1956