Planning a Road Trip This Summer? Adding Advanced Film Solutions Tampa Bay Window Tint to Your Car is a Healthy and Economical Move.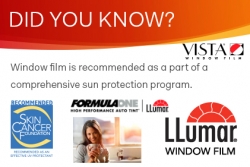 Tampa, FL, May 04, 2014 --(
PR.com
)-- Many people do not realize that they put their skin at risk every time they jump in the car. Harmful ultraviolet rays enter a vehicle through the side and rear windows, which can cause skin damage and lead to skin cancer, according to The Skin Cancer Foundation. A recent study by the Harvard Health Watch found that the average American spends 101 minutes per day driving. That's 614 hours a year or an estimated 37,935 hours in a lifetime exposed to UV rays while in a car.
Adding FormulaOne LLumar window film, sometimes called tint, to your vehicle is one of the easiest and most affordable ways to provide sun protection for you and your family. "When applied over automotive glass, this tint's virtually invisible protection blocks more than 99 percent of harmful UV rays*, which have been shown to contribute to aging, sagging, wrinkling and even skin cancer," says Mark Gershenson, Director, Global LLumar® Brand Management at Eastman Chemical Company, the world's largest manufacturer of window tint.
There are two primary types of ultraviolet rays, UVB and UVA. UVB are the burning rays that cause immediate reactions to the skin surface like blistering and burns. UVA are the penetrating rays that cause long-term damage that's not immediately visible. UVA rays penetrate deep within the skin cells and are a known leading cause of skin cancer and premature skin aging, including wrinkles and age spots.
"Glass in car windows helps to block UVB rays," Gershenson explains, "However, UVA rays pass through glass unfiltered and penetrate deeper into the skin that results in cumulative damage over longer periods of time. Because you don't see the immediate effects, many people don't realize the risks." These same UVA rays also cause fading and cracking of automotive interiors. UVA rays are present during all daylight hours, 365 days a year, even in cloudy weather.
In a recent article, "Sun Hazards in Your Car, **" Susan Butler, MD, a dermatologist and micrographic surgeon at the California Institute, points to a trend in "wrinkles, leathering, sagging, brown 'age' spots and even skin cancers" on the left side of patient's faces. "The more time subjects spent driving a vehicle, the more severe their photo damage on the left side."
The Skin Cancer Foundation recommends adopting a complete sun protection regimen which includes seeking shade and covering up with clothing, including a wide-brimmed hat and UV-blocking sunglasses, in addition to daily sunscreen use. The Foundation also emphasizes the importance of sun protection while driving. Using high performance window tint in a car offers all-day protection.
Clear window tints are widely available
While all films in the FormulaOne LLumar portfolio offer UV protection, clear and lighter transmission film appeal to those who do not want a darker window appearance. "Clear Pinnacle ceramic window film is an attractive alternative for many families who prefer openness and natural light, but recognize that they need to protect their kids. Pinnacle Ceramic FormulaOne window film is one of our most popular selling films," says Mike Feldman, President of Advanced Film Solutions in Lutz, Land O' Lakes, FL.
Installation options
Manufactured in the United States and backed by a lifetime manufacturer's warranty, FormulaOne LLumar window film are professionally installed by Advanced Film Solutions, 1642 Land O' Lakes Blvd. Lutz, FL 33549. A typical window tint installation is a one-time cost that range from $149 - $500, depending on the size of the vehicle and level of tint performance selected. Call 813-949-3456 for details.
FormulaOne LLumar window tints have earned The Skin Cancer Foundation's Seal of Recommendation, a symbol of safety and efficacy. The Skin Cancer Foundation grants its Seal of Recommendation to products that meet the Foundation's specific criteria for effective UV sun protection.
"For most people, window film is an excellent investment," says Mr. Feldman. "When you consider the long term health benefits, occupancy comfort, reduced cooling loads and around the clock protection of window tint, it just make sense."
*(wavelength 280-380nm)
** "The Skin Cancer Foundation Journal," May, 2011
Visit
www.advancedfilmfl.com
to learn more about window films for skin protection.
About: Advanced Film Solutions was founded in 2007 by Mike Feldman former National Sales Manager of 3M Window Film. Advanced Film Solutions has earned the Super Service Award from Angie's List for three straight years. Their dedicated team of auto tint and home window film installation experts services the greater Tampa Bay & Orlando region.
Contact: Adam Feldman, VP
Local: 813-949-3456
Toll Free: 877-575-3456
Website:
http://www.advancedfilmsolutions.com
Contact
Advanced Film Solutions
Mike Feldman
813-949-3456
www.advancedfilmfl.com
Orlando Office (407) 843-9350

Contact