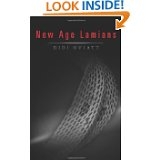 Price, UT, May 06, 2014 --(
PR.com
)-- Have your heart drop to the pit of your stomach, only to bounce back up and out of your chest in excitement. Dive fearlessly into the first novel of an unforgettable SiFi trilogy. Enter the mind of a hero as he suffers infliction and rises above the ashes in a world of mystery, horror, and destruction. Download: "New Age Lamians," by Didi Oviatt, to your Kindle now for an unbelievably low price. Discover a fantasy that will take hold of your core and squeeze until what feels like the last breath escapes you. (Also available as a soft copy exclusively on Amazon.)
Description of book follows:
Young Jackson Bellony is scarcely a man when a rain of lightning heralds the end of the world. The Company is just a mysterious group that drops care packages into his village and harnesses the technology that others lack.
Soon an enigmatic drifter wanders into Jackson's village and warns that The Company isn't to be trusted. But before any decisions can be made, Jackson is taken away by The Company, after being told he has what it takes to be a super-warrior.
The enemy, they say, is the Lamia: a creature that's half woman, half snake. The apocalyptic storm killed much of mankind but awoke the Lamia, which now endangers those who weren't killed by the century of destruction. It's a monster, and The Company needs Jackson and his superior comrades to defeat it.
But, is Jackson really the one who can save the world?
Author Didi Oviatt presents an adrenaline-fueled, young adult sci-fi thriller in "New Age Lamians," a novel that will consume your attention. It's full of intrigue, heartache, war, love, and adventure, a combination that will keep young men and women reading through to its climactic conclusion.
www.amazon.com/New-Lamians-Lamian-Trilogy-Volume/dp/1497305543/ref=sr_1_1