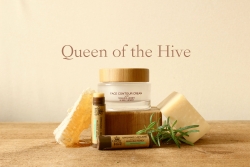 Malvern, PA, May 15, 2014 --(
PR.com
)--
Wedderspoon Organic, Inc.
is delighted to introduce its new, organic and natural skin care line Queen of Hive® for the North American market as well as overseas.
Wedderspoon's clean ingredients and sustainable business practices have always been a priority, which sets them apart from many others on the market. Their
Queen of the Hive Face Cream
($78.99 per jar) with its superior blend of organic and natural ingredients is no exception surpassing all others, using no harsh chemicals or potentially harmful ingredients, containing 70% Organic ingredients and 30% Natural ingredients.
With 70% estimated reduction in its 100% recyclable packaging materials and designed on a 88% recycled stock, the innovative Queen of the Hive® line has reached another milestone in the reformulation of its products, sourcing the best ingredients possible. Premium Bee venom in combination with hydrating manuka honey and botanical oils work to stimulate, nourish and intensely moisturize the skin.
Bee venom therapy has been used for centuries. Bee venom is used topically to "fool" the skin into thinking it has been lightly stung. This action causes the body to increase blood flow to the area and stimulates the production of the naturally occurring chemicals collagen and elastin. Collagen strengthens body tissue while elastin is the protein that helps the skin to remain firm.
(Please note that the bees are not harmed in any way during the process of collecting the bee venom.)
Wedderspoon Organic USA would be happy to give more information or send samples, if you are interested in writing a review, article, or doing a segment on our contouring face cream, organic soaps and lip balms, or candles.
Facebook: https://www.facebook.com/wedderspoon.usa
Twitter: https://twitter.com/wedderspoonUSA