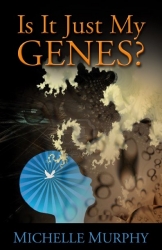 Houston, TX, May 27, 2014 --(
PR.com
)-- Michelle Murphy takes a fresh and open look at what we call mental illness, exploring possible environmental influences of the West's modern lifestyle as well as examining whether the mentally ill really are ill. Because Western society so commonly accepts mental illness as a disease, few question the validity of such labeling. But if other societies have less incidence of mental illness—and research documents this—then we must question what we are doing wrong.
"Is It Just My Genes?" shows that we can directly affect the incidence of mental illness. How we operate as a society, what behaviors we accept in ourselves or others, how much support we provide within the greater family circle, what toxins we allow into our bodies—all influence the frequency of mental illness, and we can control these. Murphy's insight will have you looking at mental illness in a new light—and looking for new ways to deal with this "disease."
Bradford S. Weeks, M.D., Founder: Corrective Psychiatry and Medicine writes, "When an engineer like Michelle Murphy is gracious enough to share thoughts, I listen. All medical doctors should listen to engineers because they function in a world that requires careful considerations of complex variables. If doctors thought more like engineers, patients might be better served. Michelle's book is full of common sense, such as: "I stand firm that genes are only a contributing factor and therefore treating chemical imbalances as such, only a partial solution." Heresy, admitted. "But you will find this book as refreshing as it is provocative. After almost thirty years in psychiatry, I have come to see 'mental illness' in part as high performance genes ('genius genes'), which are either overstressed or not adequately nourished by the environment. The good news is that optimizing mental and emotional function does not rely upon patent medications. Many other variables have therapeutic value and this book will elevate that important dialogue."
Michelle's website is full of useful resources for consumers, and those who have lost their loved ones to suicide. Also, free poetry, meditations and short stories, along with a very unique blog are available through www.freemindbooks.com.