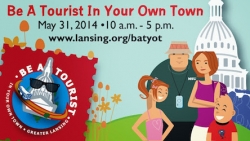 Lansing, MI, May 30, 2014 --(
PR.com
)-- One day plus one dollar equals one awesome experience. The Greater Lansing Convention and Visitors Bureau is pleased to announce the 20th Annual Be A Tourist In Your Own Town; where a one dollar passport grants you free admission to over 70 attractions and hot spots on Saturday, May 31, 2014 from 10 a.m. – 5 p.m. Michigan events don't get better than this.
This local awareness event started two decades ago in the city of Lansing with just 18 attractions and has grown regionally to now include over 70 local partnering establishments. Old favorites include Impression 5 Science Center, Potter Park Zoo and the Michigan Historical Museum. Be sure to visit one of the many new stops including: BWL Depot, Zap Zone!, City Limits Bowling Center, Red Cedar Spirits and Le Chat Gourmet Culinary Arts. Some Lansing, Michigan, attractions will offer a discount on services through June with the passport. Please visit www.lansing.org/BATYOT for a complete list of 2014 attractions.
In celebration of the Michigan event's 20th anniversary, the GLCVB will be inserting 20 golden tickets into 20 different passports among the thousands sold before May 31. Those that receive the lucky golden ticket may redeem it for a $20 VISA gift card.
"Residents are encouraged to come out and discover why nearly 5 million people visit the region each year," said Tracy Padot, Vice President, Marketing Communications. "We hope locals will become ambassadors for Greater Lansing and when someone asks them what there is to see and do in the area they can respond with countless suggestions and a sense of community pride."
Here's how the event works:
1. Purchase a Passport. Participants may purchase a $1 passport from any of the 15 area selling locations: AAA Michigan, Arts Council of Greater Lansing, CATA C.T.C, Celebration Cinema, Impression 5 Science Center, Lansing Art Gallery, Lansing City Market, NCG Cinema, Preuss Pets, Potter Park Zoo, Studio C!, Van Atta's Greenhouse, Zap Zone or either of the Greater Lansing Visitor Centers in downtown Lansing or on Grand River Avenue in East Lansing. Passports are on sale now and will also be available on May 31st at four information stations throughout the region. Children three and under do not need a passport.
2. Park and Ride CATA. CATA provides four Be A Tourist public bus routes that reach the majority of the attractions. Round trip fares are only 50 cents per person. Parking available at the Michigan Historical Museum, on the MSU campus, in Old Town or at the city of Lansing parking ramps. See route maps and parking info inside the passport or at www.lansing.org/BATYOT.
3. Collect Stamps & Win. "Tourists" collect stamps at participating attractions. Collect ten stamps to be eligible to win one of the dozens of passport prizes. Participants may continue to visit attractions and collect stamps throughout the month of June, however regular admission prices will apply.
About the Greater Lansing Convention & Visitors Bureau
The Greater Lansing Convention & Visitors Bureau ensures tourists gain an understanding and appreciation of the Lansing, Michigan area. We are dedicated in serving our great community by providing the best information on Michigan tourism, Michigan attractions, Michigan events, and more! Visit our website today to learn all that Lansing has to offer.