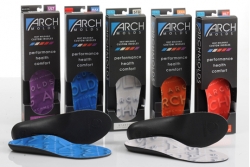 West Chester, OH, May 30, 2014 --(
PR.com
)-- Stable Step, LLC acquires Archmolds, LLC.
Archmolds will bring heat moldable insoles to Powerstep® customers.
For further information, contact:
Jennifer Hoane
Director of Marketing
Stable Step, LLC
(330) 331-2201
jhoane@remprod.com
Stable Step, LLC (Powerstep®) has announced their recent acquisition of Archmolds, LLC, a privately held company. The acquisition of Archmolds, LLC will improve Stable Step's orthotics offering to existing customers. "We are excited to once again expand our offering of high-quality orthotics with the addition of Archmolds™ heat moldable insoles. They perfectly complement Powerstep® products," said Rhonda Newman, president of Stable Step, LLC. "Additionally, Archmolds™ customers will gain access to a wider variety of Powerstep® orthotics and supports. We expect a seamless integration for all customers and they'll continue to get the highest quality products and excellent customer service they've always experienced with Stable Step."
Archmolds™ offers a full line of heat moldable insoles including the Ultimate, Maximum, Standard, Lean and Multisport models for optimal performance, health and comfort. They feature polyurethane cushioning over a full-length, heat-moldable sub-layer that includes a deep heel cup and adequate arch support for motion control. Archmolds™ provide a custom-like, personalized fit and mold to the shape of the foot without compromising support. Archmolds™ insoles help support and align the body properly during daily activities or while walking, running, skiing and hiking. They also aid in the relief and the prevention of many common problems including heel and arch pain due to Plantar Fasciitis, heel spurs, runner's knee, overpronation and knee and back pain.
Archmolds™ was founded in 2005 and was headquartered in San Diego, CA.
About Stable Step, LLC:
Stable Step, LLC was founded in 1991 and the Powerstep® brand quickly became the #1 podiatrist recommended brand of orthotics. Powerstep® retail products are sold in independent run specialty and sporting good stores, independent pharmacies and shoe stores nationwide and Powerstep® ProTech products are dispensed by thousands of medical professionals. Powerstep® orthotics are clinically proven to improve foot function, decrease foot pain, and increase comfort. Stable Step's mission is to provide the most effective products available for preventing and relieving common foot problems. The key to the company's success has been a combination of effective, innovative products, outstanding customer service and strong brand name recognition by professionals and loyal consumers. The majority of Powerstep® products are manufactured in the USA. Stable Step, LLC is an employee-owned company located in West Chester, OH.