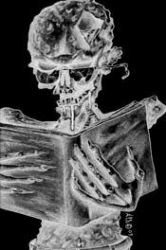 Santa Rosa, CA, June 01, 2014 --(
PR.com
)-- On 1 June 2014, Damnation Books released three novels; Chapel of the Falcon, Laughing In The Dark and Yesterday We Forget Tomorrow.
Damnation Books, LLC is based in Santa Rosa, California. Founded by William Gilchrist and Kim Richards Gilchrist, Damnation Books looks to use available technologies to bring affordable dark fiction to everyone.
"We don't ask you to sell your soul; you can keep your arms and legs. We're affordable enough to bring dark fiction kicking and screaming into the future, your future," says Kim Richards Gilchrist co-owner of Damnation Books.
The following books will be available at http://damnationbooks.com and your favorite e-reading retailers. On the Damnation Books website, titles are available in: epub (Nook compatible), pdf, mobi (Kindle compatible), lit (Microsoft Reader), and pdb (Palm) formats, consult your Users Guide for downloading instructions.
· Chapel of the Falcon by Matt Spencer a Historical, Dark Fantasy
Victorian Whitechapel pub owner, Frederick Hawthorne discovers the ominous origin of an otherworldly pocket watch. Soon he is caught in a feud between ancient beings, stretching back to the witch trials of the seventeenth century.
· Laughing In The Dark by Michael McCarty a Humorous Short Story Collection
Former stand up comedian, Michael McCarty joins comedic forces with humorous horror authors to bring this collection of scary and funny stories. It will have you Laughing in the Dark but hopefully you will not die laughing.
· Yesterday We Forget Tomorrow by Max DeVoe Talley a Dystopian Sci-fi Conspiracy Thriller
Married to a shallow, status-seeking wife, whose father is his boss at a major oil company. He must find out how it happened. He keeps having memory flashes of a different life and another wife on the West Coast. With many people invested in maintaining his new identity, he and two friends must escape the growing conspiracy and stay alive to find the truth.
Drop by Damnation Books. Follow on Twitter @damnationbooks, FaceBook and the Damnation Books Blog at http://www.damnationbooks.com/blog/. Damnation books provides darned good dark fiction at a darned good price.