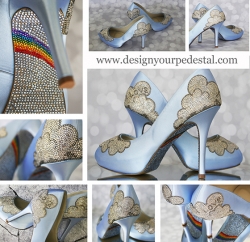 Denver, CO, June 03, 2014 --(
PR.com
)-- Ginger Zee's stylist, Francesco Bilotto, asked Design Your Pedestal (www.designyourpedestal.com) to design a weather-themed wedding shoe for Ginger's wedding. After learning more about Ginger, the company came up with two designs: a tornado-themed wedge and a cloud-themed peep toe, both of which were revealed by Ginger on Good Morning America this week.
Ginger selected the wedge because her wedding is planned for the outdoors in Michigan. She chose grays and silvers—storm cloud colors—for the base shoes, which are then accented with a rhinestone windstorm design, almost as though the wind is blowing at the front of the shoe and scattering rhinestones to the heel. The heel, then, is themed with an icy hail storm design. And, finally, Design Your Pedestal completed the pair with a metal plated tornado wrapped around the back of the shoes--the perfect storm of extreme weather elements.
For Ginger's reception, Design Your Pedestal designed a pair of "cloud" shoes, which are a sky blue peep toe satin pump with a rhinestone cloud design. The clouds, made up of thousands of pencil-tip sized rhinestones in gray, silver and white, appear to float around the shoes. Then, to really make them special, Design Your Pedestal covered the sole of the shoe in matching sky blue rhinestones juxtaposing a brilliant rhinestone rainbow.
And while Ginger Zee may be bringing custom wedding shoes into vogue, the best news is that you don't have to be a celebrity or have a celebrity budget to get the wedding shoe of your dreams. Design Your Pedestal's prices start at $100 for a simple custom wedding shoe and currently range to $800 for a totally blinged out glass slipper, with the average price per pair being $250-$300. A consultation is complimentary. To submit a design request, Design Your Pedestal has a five step design tool on its website (request.customweddingshoe.com) that helps to give the company's designers an idea of what the bride is looking for. It walks the bride through a selection of base shoe styles, colors and adornment options--everything from flowers, to bows, to rhinestones--that can then be added to the shoes. Once the initial request is received, brides work with the Design Your Pedestal stylists to fine tune the details. Then, as the production of the shoes progresses, brides receive email updates and photos from their stylist.