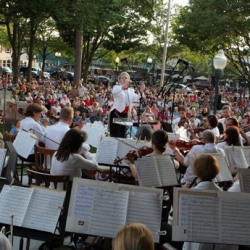 Detroit, MI, June 04, 2014 --(
PR.com
)-- Celebrate the Sounds of Summer with the Michigan Philharmonic
The Michigan Philharmonic, a leading-edge professional orchestra based in Southeast Michigan, has expanded its growing calendar of performances this summer.
June 20, 2014 – Dexter, MI Hudson Mills Metropark – 8:00 pm.
"An American Salute" This free event (with $7 park admission) is an outdoor summertime pops concert saluting our veterans and celebrating our nation and its culture with a dynamic tapestry of patriotic favorites along with Broadway and movie music. The evening includes the music of the great Louie Armstrong and Chuck Mangione and concludes with a blockbuster performance of Tchaikovsky's classic 1812 Overture.
June 29, Plymouth, MI (Kellogg Park, 7:30 p.m.):
"An American Salute" will be reprised at this outdoor event in downtown Plymouth, again with free admission.
July 12, 2014 Milford, MI (Kensington Metropark, 8:00 p.m.): "Beatles Blast" – This free event (with $7 park admission) celebrates the 50th Anniversary year of the Beatles coming to the U.S. Join the Michigan Philharmonic as they pay tribute to the "Fab Four" with the best of the Beatles - from "Eleanor Rigby, Love is all you Need, and Hard Day's Night" to "Help" and "She Loves You" – You won't want to miss a beat ….Yeah, Yeah, Yeah!
July 15, 2014 Detroit – Campus Martius Park - "Beatles Blast" Join the Michigan Phil after work in Detroit's award winning urban park for a free concert celebrating the great music of the Fab Four.
"We're very pleased with these concerts opportunities with the Metroparks and in our local communities," said Beth Stewart, Executive Director of the Michigan Philharmonic; "with our recent successes, additional concerts continually being added to our calendar, and our expansion this fall into new markets, it's an exciting time for the Michigan Phil and our audiences."
About the Michigan Philharmonic
The Michigan Philharmonic – (or "Michigan Phil") – is one of the most innovative and dynamic professional orchestras in Southeast Michigan. Nan Washburn, Music Director & Conductor since 1999, has won 19 ASCAP Awards for Adventurous Programming of Contemporary Music from the League of American Orchestras and was awarded First Place in The American Prize for Conducting with the Michigan Philharmonic receiving 2nd place for Professional Orchestras. The Michigan Phil is bringing its events into an ever-expanding roster of Michigan communities, including Plymouth, Canton, Northville, Livonia, Farmington, Brighton, Downtown Detroit, and many others. The Michigan Phil is committed to reaching out to a broad and diverse array of audiences and providing enjoyable cultural and social experiences, while encouraging anyone who loves live music events to "Spend the night with Michigan Phil."
For tickets and more information, please visit
www.michiganphil.org
or call (734) 451-2112.
Orchestrating the Extraordinary!