Orthopedic Spine Surgeon, David K. Kim, M.D. to Join OrthoNeuro in July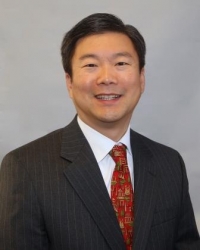 Columbus, OH, June 04, 2014 --(
PR.com
)-- OrthoNeuro announced today that Dr. David Kim will join their multi-specialty physician group on July 14th, 2014.
Dr. Kim is a fellowship-trained orthopedic spine surgeon who specializes in minimally invasive approaches to the neck and low back. Dr. Kim worked in private practice specializing in spine surgery for over 14 years. He was most recently employed by OhioHealth Orthopedic Surgeons. Dr. Kim has privileges at Dublin Methodist Hospital and is the Director of Spine Surgery at Doctors Hospital.
Dr. Kim graduated from Yale University cum laude with a Bachelor Degree in Biology. He attended Medical School at the University of Rochester School of Medicine in Rochester, NY. Dr. Kim was awarded a research grant at the National Institutes of Health in Bethesda, MD for MRI and metabolism. He completed his orthopedic residency at Hahnemann University in Philadelphia, and then a spine surgery fellowship at Southern Illinois University in Springfield, IL.
He enjoys spending time with his wife, who is a radiologist, and helping his three young daughters with skiing and golfing. Dr. Kim and his family reside in Dublin.
Dr. Kim is now accepting new patients. He will be treating patients at the OrthoNeuro Dublin location, 6770 Avery Muirfield Dr. starting in July 2014. To schedule an appointment, please contact OrthoNeuro at 614-890-6555 or visit the OrthoNeuro website at
www.orthoneuro.com
.
OrthoNeuro is a multidisciplinary center of board certified physicians specializing in orthopedic surgery, neurology, neurosurgery, and physical medicine and rehabilitation. With offices in Westerville, New Albany, Downtown Columbus, East Columbus, and Dublin, OrthoNeuro is committed to providing patients throughout Greater Central Ohio with convenient access to an exceptional patient care experience. For more information about OrthoNeuro visit
www.orthoneuro.com
or call 614-890-6555.
Contact
OrthoNeuro
Heather Benjamin
614-839-2142
www.orthoneuro.com
Director of Marketing, Outreach, and Education

Contact