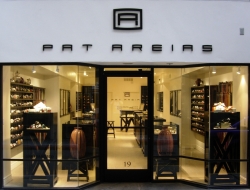 San Francisco, CA, June 07, 2014 --(
PR.com
)-- New to the Union Square Shopping District, Pat Areias Sterling offers an unparalleled collection of handcrafted sterling silver belt buckles and jewelry as well as luxury belts straps in a thoughtful variety of colors and exotic leathers. From casual and classic to fashion-forward and on-trend, your new favorite accessories can be found at Pat Areias.
Pat Areias has its roots in the old Mexican tradition of silversmithing and today is one of the most innovative companies in the field. Artistically, Pat Areias Strives to maintain the same level of excellence achieved by the great silversmithing visionaries Jean Puiforcat of France, Georg Jensen of Denmark and William Spratling of Taxco. In this same vein, Pat Areias trains new craftsmen in the classic techniques making Pat Areias one of the few design houses that continues to produce under the authentic definition of hand-fabricated. Pat Areias offers and unparalleled line of jewelry to complement them. The combination of traditional silversmithing techniques and elegant modern designs creates unique styles of everlasting value.
In 1906 the earthquake, which leveled much of the city, rendered this two-block stretch rubble. It was renamed Maiden Lane by an enterprising jeweler who wanted to conjure the Maiden Lanes of London and New York.
Jane Jacobs in Fortune back in 1958 described the street:
"Starting with nothing more remarkable than the dirty, neglected back sides of department stores and nondescript buildings, a group of merchants made this alley into one of the finest shopping streets in America. All the buildings, old and new, look individual; the most celebrated is an expanse of tan brick with a curved doorway, by architect Frank Lloyd Wright."
"The pedestrian's welfare is supreme; during the rush of the day, he has the street. Maiden Lane is an oasis with an irresistible sense of intimacy, cheerfulness, and spontaneity. It is one of San Francisco's most powerful downtown magnets."
Pat Areias on fashionable Maiden Lane joins a sterling group of high-end retailers, such as Gump's, Alexander McQueen, Tori Burch, Christian Laboutain, Paul Smith, Jon Varvatos, Olivers People, Mont Blanc, Prada, Hermes, Joseph Cozza, Tsesay Theory, Wolfords, Marc Jacobs, Chanel, Xanadu Gallery, Azadeh, Spectales, Diptyque, Faconnable and Britex.