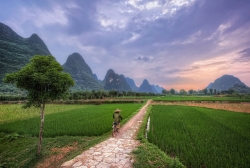 Bangkok, Thailand, June 11, 2014 --(
PR.com
)-- SpiceRoads Cycle Tours are expanding routes in China with a new 10 day / 9 nights tour through the Karst Peaks of Guilin, China.
This tour is one of the best kept secrets of rural cycling that southwest China has to offer. The amazing backdrop of incredible limestone peaks will have the feeling of riding through the scenes of a virtuoso's painted landscape.
Commencing in the city of Guiyang, riders travel out into the beautiful grasslands and head towards the scenic Miao Village of Xijiang with its Qing and Ming dynasty architecture, then continue following the Duliujiang river, past the famous rice terraces of Longshen to fascinating villages that boast plenty of unspoilt traditions. They will pass by local markets in Baisha Village, and take a boat ride across the Li River before ending the tour in Yangshuo and finally transferring to the very pleasant city of Guilin.
The green rice fields, mud-wallowing water buffaloes and superb panoramic vistas meander along quiet traffic-free back-country roads, beside rivers and streams lined with bamboo, and passing countless magnificent terraced rice fields.
The bike tour also goes close to several ethnic minorities such as the Miao, Zhuang, Dong and Yao people. The tour focus is more on the Miao people that boast a splendid culture with eye dazzling costumes, mysterious witchcraft and a turbulent history.
The tours vary from day-to-day, a normal day ride can be anywhere between 40-70km. The most challenging ride is day 3 where a total of 80km is covered, and for the second half a climb of 2,200km to Leisham pass.
The support van is always nearby to help with more difficult stretches, as well as serving snacks and drinks to refresh riders.
In total, the ride is for 475 kilometers over 6 full days and one half day. The biking tour is mainly on smooth paved roads with some off-road and gravel sections, but nothing technical. There are some short steep climbs and one long gradual one. Riders should have a moderate level of cycling experience and be in good physical condition to fully enjoy this tour.
Departure dates are 24 August 2014, 21 September 2014, 19 April 2015, 3 May 2015, 23 August 2015 and 13 September 2015. For the majority of the trip we will stay in hotels and lodges that complement the local culture. Tour cost is US $2,550. The price is not inclusive of bike rental (an additional US$120) and for a private room a single supplement costs US$290. However the price does include most meals, drinks and snack throughout the tour. Please check the itinerary for scheduled meals.
SpiceRoads is a specialist bicycle tour operator based in Bangkok offering a range of two-wheel tours throughout Asia. SpiceRoads tours cater for every level of cyclist and range from day-trips to complete country explorations. Participants are invited to join tours with fixed date departures scheduled throughout the year, while private or tailor-made tours can be arranged for groups or individuals on request. Our professional operations set-up includes a fleet of well-maintained mountain and road bikes and support vehicles. All tours are led by experienced cycle guides.
Please call or email for more information and photos.