New Venture from Industry Leader, Empire Resource Partners, Displaces Costly Resins in Industrial Extrusion Applications with Oshenite® Performance Mineral
Leading manufacturer of recycled plastics distributes ground Oshenite® as replacement for costly resins and recycled PVC.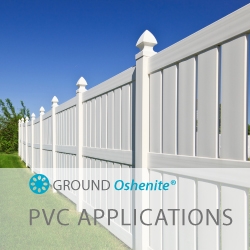 Salem, MA, June 11, 2014 --(
PR.com
)-- Empire Resource Partners (ERP) was created earlier this year thru a joint venture with U.S. Aragonite Enterprises, distributors of Oshenite® renewable performance mineral. Frank Murphy, founder and president of ERP, has a successful history of bringing new products and value added solutions to plastics manufacturing and plastics recycling. Since 2003, Frank has been the owner of Empire Resource Recycling, a Rochester, NY based company that delivers cleaned and ground bulk rigid plastics to industry as well as manufactured recycled pellets extruded from industrial film. Frank's education in Mechanical Engineering and Material Science along with almost thirty years of experience in Plastic Product Development and Manufacturing, gives ERP a very real world understanding of how and why Oshenite® delivers on performance and costs savings. According to Murphy, "When I was first introduced to the ground Oshenite® product I knew instantly that this was something different, and after diving deeper into the science, and understanding the unique physical properties of Oshenite®, I knew that I could find the right fit for this product." Empire Resource Partners is currently selling in bulk the Ground 2 micron Oshenite®. Continues Murphy, "In many applications we have been successful at displacing virgin resins, with up to 25% Oshenite® loadings in the finished product. In addition, Oshenite® can replace recycled PVC which can be difficult to procure in quantity and quality."
The results of a successful market launch are already evident for Murphy's new venture with U.S. Aragonite. "Now that we have successfully entered the industrial market with repeat sales in large scale production, we are excited to extend the Oshenite® Brand to our customers as well. Not only do they get substantial cost savings and performance, our customers have a lot to promote with the Oshenite® story." Oshenite® is a renewable performance mineral offering economic, performance, environmental and marketing benefits for processors, brand owners and stake holders in the plastics industry. Oshenite® is reinventing plastics.
U.S. Aragonite Enterprises
is the exclusive supplier of Oshenite® - a sustainable, renewable performance mineral offering a wide range of economic, performance and environmental benefits for plastics.
Empire Resource Partners
specializes in the Extrusion and Recycling Markets, helping industrial clients optimize operations.
Contact
U.S. Aragonite.com
Lotte Bowie
410.708.9010
www.usaragonite.com
Tom Bourne, Empire Resource Partners
585.794.9226
tbourne@EmpireResourcePartners.com

Contact