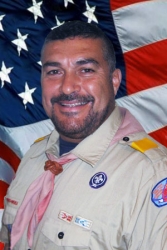 Washington, DC, June 15, 2014 --(
PR.com
)-- Jose F. Niño, VP Strategic Relationships, Microtech, will serve as master of ceremonies at the Champions of Character Dinner on June 18th, in downtown Washington, D.C.
Mr. Niño serves on the National Executive Committee for the Boy Scouts of America and was a founding member, President/CEO of the US Hispanic Chambers of Commerce (USHCC). Honorees are, Dr. Jorge Ribas, President & CEO of Mid-Atlantic Hispanic Chamber of Commerce; Susan Au Allen, National President & CEO of U.S.
Pan Asian American Chamber of Commerce; Mike Enzi, U.S. Senator (R-WY); Angela Franco, President & CEO of Greater Washington Hispanic Chamber of Commerce and Michael Melton, President, 100 Black Men of Greater Washington, DC.
Mr. Niño stated, "Scouting is a Life-changing experience for all involved and the good lessons learned stay with the Scout throughout his life."
Individuals and companies are invited to support of this event which will benefit the National Capital Area Council, Boy Scouts of America and Learning for Life program. The Learning for Life program is an affiliate of the Boy Scouts of America and is a diverse and inclusive nationwide program providing career guidance and character education to boys and girls in grades pre K through age 20. Together, Learning for Life and the Boy Scouts of America serve over 55,000 youth in the Greater Washington, DC Metropolitan area. Support from interested companies and individuals will allow more children to benefit from the rich and rewarding experience that these programs offer.
The 2014 honorees have been chosen for specific awards because they represent values both in their personal lives and in their careers that support the commitment of both organizations. They have provided dedicated public service for a number of years in a variety of positions and have maintained an impeccable reputation for both integrity and competence. As such, they serve as superb role models for girls and boys through their effective leadership and consistent embodiment of the goals and values that these organizations promote in young people.
The attached form describes the various levels of support and the accompanying recognition to be presented on June 18th. A special feature at the Platinum, Gold, and Silver levels will be an opportunity to enjoy a VIP reception with the honorees.
Registration and sponsorships are available online at
www.ncacbsa.org/champions