Lucky Dog Hot Sauce Launches Kickstarter Campaign
Self-funded start-up Lucky Dog Hot Sauce releases their new Día del Perro sauce exclusively through Kickstarter!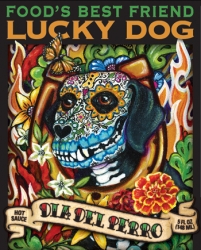 Hayward, CA, June 17, 2014 --(
PR.com
)-- Lucky Dog Hot Sauce, a self-funded award-winning start-up hot sauce company out of Northern California has launched a Kickstarter campaign in effort to raise funding for a reliable delivery vehicle so that his farmers market customers aren't left stranded in the event of an automotive catastrophe.
After 2 years, Lucky Dog Hot Sauce has amassed a startling 23 industry awards, including significant showings in Texas with back-to-back Golden Chile awards, a 1st place in New Orleans, and a "best overall" out of 21 product categories in New York at the 2013 The Hot Pepper Awards.
Now Lucky Dog Hot Sauce is releasing a new hot sauce that may well be their best yet, Día del Perro. This medium-heat alderwood-smoked Serrano pepper sauce is rich with layers of flavor and provides an entirely different take on the classic Mexican verde-style table sauce.
"I'm beyond thrilled with the way this sauce came out - I spent months crafting a sauce that would hold up to the stunning label art created by Robin Case. With a label that good, I had to make a pretty amazing Mexican-style verde (sauce). At the same time, I didn't want it to be just another 1-note mild tomatillo sauce, so I upped the flavor ante by using chile Tepin to raise the heat to a medium, and incorporated the subtle yet complex flavors of alderwood smoke, green tomatillo, toasted onion and roasted garlic. And of course I love the playful name, Día del Perro, which translates to 'Day of the Dog'. It's a fun take on my original label, while also a respectful nod to the Día de Muertos holiday tradition," Scott Zalkind, hot sauce guy of Lucky Dog says.
Kickstarter has seemingly become a haven for hot sauce recently with dozens of new brands seeking funding prior to having a product on the market. Says Zalkind, "I considered crowd funding when I launched, but it didn't seem right to expect people to give me their hard-earned money without a compelling reward. I didn't think an unproven hot sauce made by a company who had not been through the trials of launching a brand was compelling enough, so instead I pulled out my modest life's savings to invest in myself first to establish my reputation as a sauce maker. Now that an unexpected expense has come up and I have a terrific new sauce to release, the timing seemed right for social fundraising. I wanted the rewards to be fair. So much so that even if successfully funded, once rewards are fulfilled and Kickstarter & Amazon take their percentages, I'll likely only see 35-40% of the total funding. Fortunately that should still be enough for a reliable used vehicle, which is the priority."
Just 7 days in, the Lucky Dog Hot Sauce
Kickstarter campaign
has reached an incredible 42% of the modest goal. It's understandable, as it's the only place you can get the new Día del Perro sauce, which is virtually certain to be Lucky Dog's next award-winning hot sauce.
Contact
Lucky Dog Hot Sauce
Scott Zalkind
510-861-9625
http://www.tinyurl.com/diadelperro

Contact