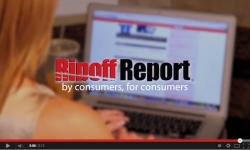 Tempe, AZ, June 26, 2014 --(
PR.com
)--
Watch the Truth about Ripoff Report here!
There is a lot of information on the Internet about Ripoff Report and Founder, Ed Magedson. It can be hard to separate the facts from the fiction. Let's start with what you probably think you know about Ripoff Report.
Ripoff Report is run out of a secret, underground fortress? False
The owner is a wanted criminal? False
Ripoff Report may be one of the biggest criminal enterprises ever created on the Internet? False
Well, the truth is…
Ripoff Report has been online since December 1998 and is operated by Xcentric Ventures, LLC based in Tempe, Arizona (above ground). The company is run by Ed Magedson, (who is not a wanted criminal), and a staff of normal experts in different fields (also, not wanted criminals) including, IT, Marketing, Legal, Customer Service, and Sales.
Yep, Ripoff Report is a business.
The site allows users to post free complaints known as 'reports', which contain details of the user's experience with the company or individual listed in the report.
Users are required to affirm that their reports are truthful and accurate, and companies who have been named in a report are encouraged to respond by submitting a "rebuttal" which explains their side of the story. There is no charge to submit a rebuttal.
Incoming complaints are moderated around the clock for hate speech, vulgar language, and personal information like phone numbers, social security numbers, home addresses, etc.
Xcentric Ventures offers a variety of services that stem from the millions of reports posted on the site. Better business practices programs, an arbitration process for authors and businesses named in reports to save both sides the hassle of a lawsuit, and more!
Go to
RipoffReport.com
to learn more about your online free-speech champion.
Watch the Truth about Ripoff Report here!