The Society of Healing Arts Institute (SOHAI) Opens in Eastown
Grand Rapids' only Holistic Medical Cannabis and Acupuncture opens in Eastown.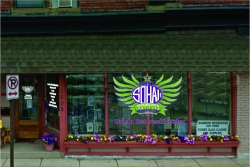 Grand Rapids, MI, June 27, 2014 --(
PR.com
)-- The Society of Healing Arts Institute is recognized as a top professional provider of medical cannabis certifications and other alternative healthcare choices in the state of Michigan and is excited to extend its services into Eastown. Widely known as SOHAI, the newest clinic at 1505 Lake Dr. S.E. is celebrating the grand opening of its first comprehensive clinic (and the *only* Community Acupuncture clinic in Western MI) on June 28, 2014.
As patients needs continue to grow and expand to include complimentary medicine and alternative health choices, SOHAI has met their patients right where and when they need it. Co-founders Anthony Holmes and Paul Farage are excited to see the expansion come to fruition in order to further serve the greater Grand Rapids community with services most needed. Holmes commented, "Our mission is to extend all inclusive health care choices into the community with an array of affordable services, and to empower our patients in their journey toward health." "Our mission is to serve with the highest integrity in support of wellness, community, advocacy, and the human spirit."
The Society of Healing Arts Institute is respected for it's professionalism, experience, and focus on patient care and education. Which is noted by Shirley Allen, a grandmother, who recently visited SOHAI: "They went the extra mile to make my experience pleasant. It was amazing. Here, I am a grandmother, with a mysterious lung disease, recently adjusting to a need for oxygen therapy. Walking into the Sohai world was a memorable and pleasant experience! Thank you very much for the work you do! Shirley, Northern MI."
With many people seeking alternatives to prescription medications and symptom based treatment, the public has so many questions about the Michigan Medical Marijuana Program (MMMP), qualifications, and general questions about how it all works. SOHAI is in a great position to offer expertise on all things medical cannabis. It is recommended to preschedule appointments and consultations by calling (toll free): 855-697-6424 (855-MY-SOHAI).
The Society of Healing Arts Institute is unlike other medical cannabis clinics due to it's proven track record in offering many other quality healing modalities, such as 'Pay What You Care to' sliding fee scale community acupuncture (donations average $15--$50) -- as originally practiced in Traditional Chinese Medicine, massage, clothing optional yoga classes and nutritional consultations. SOHAI truly offers unique healing experiences for all.
SOHAI - The Society of Healing Arts Institute
www.sohai.org
1505 Lake Dr. S.E.
At the intersection of Lake Dr. And Wealthy -- in the Heart of Eastown
Grand Rapids, MI 49506
855-697-6424
Media Contact: Anthony Holmes --773-354-4553 | tony@SOHAI.org
Contact
The Society of Healing Arts Institute
Tony Holmes
855-697-6424
www.sohai.org
Tony's Cell: 773-354-4553

Contact