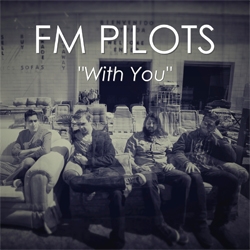 Tulsa, OK, July 01, 2014 --(
PR.com
)-- Tulsa, Oklahoma's "Absolute Best Rock/Pop" band FM Pilots will release their latest single, "With You," via iTunes and all digital outlets on Tuesday, July 1st. The song will also be distributed to radio outlets for regional and national airplay.
"With You" is the bands first preview of what to expect on their upcoming record, projected for release in early 2015. "This is a song about the back and forth courting that goes with songwriting. It's funny how being a musician is like a roller-coaster relationship on top of everything else, but it's also what keeps us going and keeps us strong," says singer Nick Whitaker.
The band is comprised of long-time friends Nick Whitaker, Joshua Kephart, Joe Blanck, and Cody David. The group recently claimed the title of "Absolute Best Rock/Pop" in the 2013 local A.B.o.T. awards (Absolute Best of Tulsa). In their 4 years, the band has landed spots on Vans Warped Tour, showcases at SXSW music week, Center of The Universe Festival, Chevy Music Showcase, and even joined along-side notable acts such as Hot Chelle Rae, Neon Trees, Mutemath, and OK Go.
You can catch them this summer at one of their regional midwest tour dates or locally this summer at Center of The Universe Festival, a prominent event that held 80,000+ attendees its inaugural year in 2013. The group also stays active with their fans at facebook.com/fmpilots.
Booking and interview inquiries, promotional considerations, and requests for review copies can be directed to: contact@fmpilotsmusic.com.
Links:
www.fmpilotsmusic.com
www.facebook.com/fmpilots