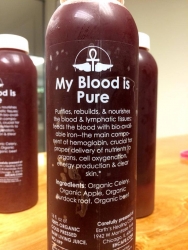 Chicago, IL, July 04, 2014 --(
PR.com
)-- Earth's Healing Cafe, which offers organic cold-pressed juice, smoothies and raw vegan entrees and desserts, recently opened its 2nd location at Illinois Center (111 E Wacker) on the concourse level. Earth's Healing Cafe is introducing the employees and transients of Illinois Center to healthy options on the go, promoting its message of "food as medicine."
At Illinois Center, you can find all their popular items, such as Earth is My Mother (formerly Mother Earth juice), My Body is Alkaline (formerly Electric Greens juice), State of Mind raw pizza, Royal Alfredo and Therapeutic Zucchini Pastas, and Strawberry Cheesecake. You will also find some new favorites like Inflammation is Gone, a cold-pressed juice with turmeric root, pineapple, and ginger as the ingredients and My Liver is Clean that blends apple, dandelion leaves, ginger and lime.
With very little wait time, Earth's Healing Cafe is making healthy eating on the run accessible to all, which is desperately missing downtown. "We are on a mission to promote truly healthy eating in Chicago and the Chicagoland area. Mother Earth has provided everything we need to live life optimally and abundantly," says Samantha Salmon, co-owner of the Company. She alongside her husband and business partner, Akin Olokun, are changing the way food establishments do business. They focus on health first and profits last per their website.
Earth's Healing Cafe is located in Chicago at 111 E Wacker (corner of Wacker and Michigan) and 1942 W Montrose Ave (on Montrose Ave East of Damen). For more information, visit ehcafe.com.