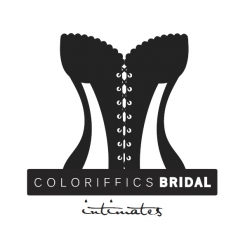 Woburn, MA, July 06, 2014 --(
PR.com
)-- Coloriffics is proud to announce their newest division, Coloriffics Bridal Intimates.
Don Jones, CEO of Coloriffics Bridal and Managing Partner of Verite Capital Partners, states, "We are pleased to announce our inaugural collection of Bridal Lingerie will debut in July 2014 as we trend toward All Things Bridal and giving our customers additional categories to shop." Coloriffics Intimates is a signature collection of 10 styles consisting of 4 to 5 individual matching pieces. Each individual look is created with beautiful fabrics combining lace, pleats, embellishments and design elements consistent throughout all pieces making them effortlessly romantic. Choose from bikinis, boy shorts, demi bras, chemises, garters, bustiers and baby dolls.
Every bride should feel irresistible and divine under her perfect fairy tale wedding dress, and Coloriffics bridal lingerie will be the perfect addition for her wedding day. Individual lingerie collections are graced with intricate French lace, delicate rhinestones, dainty bows and exquisite details. Coloriffics Bridal Intimates have been crafted from soft-to-the-touch materials with superior attention to detail and fit.
Coloriffics Intimates are created for all women, with sizes from 30A to 40G. Coloriffics has comfortable, pretty, sexy lingerie for every woman, every size and every occasion: wedding, honeymoon, anniversary, or any special day. This honeymoon and bridal lingerie will make every woman feel polished, perfect and seductive in intimates that caress her curves and natural shape.
Coloriffics is entering their 65th year of business with a brand new category, new leadership and plans to expand their Bridal offerings to include jewelry, swim, fragrance and other accessories. Coloriffics Intimates will be sold through independent retailers across the USA, large ecommerce sites and their company website,
www.coloriffics.com.
About Verite Capital Partners:
Verite Capital Partners is a minority and women owned private investment firm. Founded in 2009 by Don Jones and Lynda Davey to invest in undervalued companies in underserved domestic and emerging markets. More information can be found at www.veritellc.com.