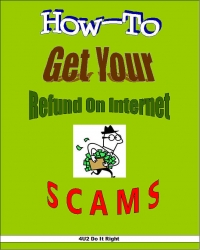 Raleigh, NC, July 11, 2014 --(
PR.com
)-- To avoid people being ripped off by online or offline scams 4U2 Do It Right published How-To Get Refund On Internet Scams. Through its global distribution it shows how and where to file a formal complaint against online and offline thieves.
"How-To Get Your Refund On Internet Scams" will be released July 15, 2014 and available at http://refund.4u2doitright.com
No other effort to address this issue in a direct and detailed way has been presented to the public in this manner. The era of Internet Electronic Commerce is vital to the future of the world. This is coming from 4U2 Do It Right, setting the standards for Global Electronic Commerce.
Thousands of people, if not millions, have been taken advantage of and don't how, or where to turn to for help, or find the answers. You will find everything you need to arm your self in the e-book: "How To Get Your Refund On Internet Scams."
At 4U2 Do It Right the focus is to help everyone succeed in Internet Electronic Commerce. With this information people will be able to avoid the discouragement of fraudulent Electronic Commerce Internet activity. The Internet is the tool to use in enhancing global economic stability.