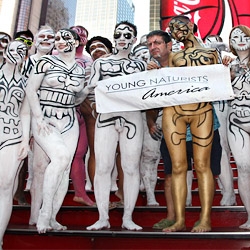 New York, NY, July 14, 2014 --(
PR.com
)-- This July 26, 2014, world renowned body painter, Andy Golub and Young Naturists America are uniting at the crossroads where art, nudity and acceptance intersect.
This one day event will incorporate 40 fully nude models and 35 of the top body painters in the USA.
"Regardless of what the big social networking sites may have you think, the human body is not obscene! These platforms are silencing the artists and activists, while promoting violence," said Felicity Jones, co-founder of YNA. Her ever-growing frustration with social networking has prompted her to create:
http://shitthatgotmebanned.com/
a platform she created to help raise awareness and rant about the ludicrous censorship policies online.
Felicity goes on to explain that "Our society is plagued with issues that stem from over censoring and hyper sexualizing the human body. We at YNA are constantly doing our best to educate the general population so naturally we jumped on the opportunity to work with Andy. By supplying most of the models, we hope to be able to illustrate that beauty transcends a number on a scale or a specific body type. We believe that all bodies are as beautiful as the individuals themselves."
For questions about the event, sponsorship opportunities or if you are a celebrity and would like to endorse this event, please contact Andy Golub directly through his website:
http://andygolub.com/
If you would like to participate or if you have questions about body image, please contact YNA at:
http://youngnaturistsamerica.com/