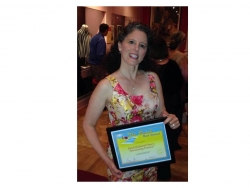 Fairfield, CT, July 16, 2014 --(
PR.com
)-- Randi Redmond Oster, a first-time author, has won a prestigious award for her just-released book. "Questioning Protocol," published by WellPathPress, Fairfield, Conn., was awarded the 2014 Beach Book Festival award for Best Beach Read in health.
"I am very excited that my work is being received so positively, and that I have this chance to help others who may be going through what I did," said Oster. "Now that the book has won this award, I'm going to stroll up and down the shores of the Sound, looking to see if people are actually reading it on the beach."
"Questioning Protocol" is the account of Oster's grapple with the health care system after her son Gary was diagnosed with Crohn's Disease, a chronic digestive disorder.
"Gary required a battery of tests and underwent multiple operations. I wrote about all of it: the heart-warming, the heart-wrenching, the scary and the funny, in the hopes that readers would make use of the information to cope with their own personal crises. Questioning Protocol empowers readers to navigate the healthcare system with confidence," Oster said.
Oster accepted the award for "Questioning Protocol" on June 20th at the Grolier club in New York City.
"I wrote the book to help others understand today's healthcare system. I now know my family was not alone in needing to deal with a healthcare crisis: there are some 141 million Americans with chronic diseases, and 36 million people per year facing hospitalization," Oster said. "I believe you can't win at a game if you don't know the rules."
The book offers tools and techniques for creating a high-performing healthcare team focused on what's best for the patient.
Oster holds a degree in electrical engineering from Union College and an MBA from Boston University. She spent the first 18 years of her career in GE. She received a Black Belt in Six Sigma Quality certification and numerous leadership awards. She is a current Malcolm Baldrige Examiner specializing in the performance of healthcare-related organizations. She is a leading speaker on healthcare reform, shared decision making and patient engagement. Her work has appeared in the Journal of the American Medical Association (JAMA) as well as other leading industry publications, and she has won the prestigious Eric W. Martin Award for writing from the American Medical Writers Association.
"Questioning Protocol" is available on Amazon.com and BarnesandNoble.com. For more information, visit
www.RandiRedmondOster.com
.