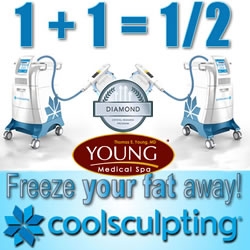 Lehigh Valley, PA, July 17, 2014 --(
PR.com
)-- Dr. Thomas E. Young, co-owner and medical director of
Young Medical Spa®
, has announced his practice has been awarded the esteemed honor of being named a Diamond Provider by Zeltiq, the manufacturer of the CoolSculpting® technology.
With 6 CoolSculpting® units to date, Young Medical Spa® has clearly defined themselves as being the most experienced body shaping and sculpting practice in the region.
Dr. Young states "for several months now, we have been offering our Lehigh Valley patients what we affectionately call "DualSculpting", which is a CoolSculpting treatment performed using two units at one time. This enables some of our patients to cut their treatment times in half!"
Young Medical Spa® is only aesthetic practice in the Lehigh Valley and surrounding areas to offer a large menu of body sculpting and shaping service and treatments both minimally-invasive and non-invasive to their patients. With the introduction of SmartLipo™ laser body sculpting soon after its FDA approval, Dr. Thomas E. Young and his experienced staff of aesthetic providers have consistently introduced new and innovative technologies for the reduction of unwanted body fat.
A CoolSculpting® treatment reduces areas of body fat using no needles, surgery or downtime. Patients can begin to see results as soon as three weeks following treatment, with the most dramatic results occurring over a period of two to four months in most patients.
"We are proud to be named a Diamond Provider for CoolSculpting® which identifies us as one of the largest CoolSculpting® practices in the Country," states Dr. Young.
About Thomas E. Young, M.D.
Thomas E. Young, M.D. is the Owner and Medical Director of Young Medical Spa®. He began performing SmartLipo™ soon after it's FDA approval and was the first physician to introduce awake tumescent laser liposuction to the Lehigh Valley and has extensive training from across the Country with the World's foremost leaders in body sculpting, fat transfer and stem cell procedures. Dr. Young is also one of the few physicians in the U.S. trained to perform Stem Cell Enhanced Natural Breast Augmentation.
Dr. Young also was the first physician to perform Vaser® LipoSelection, SlimLipo™, Liposonix®, Cellulaze™, Stem Cell Enriched Fat Transfer Natural Breast Augmentation, Stem Cell Face Lift, Brazilian Butt Lift, and NeoGraft™ Hair Restoration in the region. He has performed well over 3500 procedures and is a CME certified Awake Tumescent Liposuction Training Facility with physicians traveling far distances to learn his techniques. Young Medical Spa® is also a Center of Excellence for Cynosure.
Dr. Young is Double Board-Certified by the American Board of Internal Medicine, is a native of the Lehigh Valley, and has been practicing medicine in the Valley for 24 years.
He received an award for "Best Overall Body Makeover (a combination of procedures)" at "THE Aesthetic Awards™" during "THE Aesthetic Show™" in Las Vegas, NV. He was voted "Leading Aesthetic Physician" in the 2011, 2012, 2013 and 2014 "Who's Who in Business" for the Lehigh Valley, and was twice voted "Best Aesthetic Physician" by Lehigh Valley Magazine's "Best of the Valley" Readers Poll.
He is a member of the American Academy of Cosmetic Surgery, American Academy of Cosmetic Physicians, American Medical Association, a Fellow of the American Society for Laser Medicine and Surgery, and other associations of importance.
Consultations are complimentary and financing is available. For more information call the Center Valley office at 610-798-7546, the Lansdale office at 215-362-7546, or the King of Prussia office at 484-684-6650.