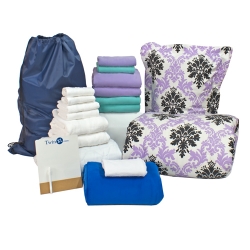 Minneapolis, MN, July 19, 2014 --(
PR.com
)-- TwinXL.com, the leader in high quality college bedding is now offering a 20 piece set for all your back to school needs.
While already ranking among the highest in the land for dorm bedding and linens TwinXL.com has proved once again that they are the leader in the market of dorm essentials. With the addition of their new 20-piece set they have you completely covered going into your first year of college.
If anyone knows what materials you need coming into your freshman year it's these guys, and now they have put together a set that will have you covered for linens as well as a few extra items that you will be sure to enjoy.
It separates the product into two separate categories, boy and girl deluxe sets. This way your options can be narrowed to make the choice slightly easier. However, if you did want to mix and match between the two you can certainly view the product in a whole.
The toughest part might not be pulling the trigger on buying the set however, knowing which of each color to pick. Decisions must be made between the solid and print Ivy Union comforters, as well as the color of sheet sets, choice of mattress pads, blanket and towel color.
Along with these amazing items TwinXL offers several essentials including the drawstring laundry bag, a premium SafeRest Pillow Protector and a dry erase board and marker (Used to decorate door, walls, etc.). These small items are perfect additions because you are able to save quite a bit of money and time.
One might think that all these items can get pretty expensive, but that's just the opposite. Buying these items separately is somewhere around $320 and they're offering it for about half that. Not only does it take care of a lot of your shopping needs but it's light on your wallet as well.
With the addition of their new print comforters, microfiber sheets and now this incredible 20 piece set, TwinXL.com continues to prove why they stand alone atop the college bedding market. They're variety and selection is simply unmatchable. To see this set in whole click the link provided: http://www.twinxl.com/product-p/deluxe-pack.htm.
To check out TwinXL.com's huge selection of bedding, separates and essentials go ahead and visit TwinXL.com. Also if you don't already, follow TwinXL.com's blog for other helpful and interesting information involving college. If you have any questions about their products, company, or any college bedding questions in general feel free to contact help@twinxl.com or call them at 1-888-894-6951.