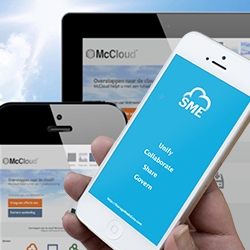 London, United Kingdom, July 22, 2014 --(
PR.com
)-- McCloud offers all of its services from a unique storage platform that is redundantly distributed across multiple data centers. McClouds data centers are geographically spread out through the Netherlands and linked to each other with fast internet connections. Together they form a secure cloud platform for all of McClouds services.
Frustrating noises about the increasing complexity of document management and collaboration drew McCloud to the decision to offer an efficient and easy to use collaboration service. McCloud found the perfect partner in Storage Made Easy. Their Software as a Service makes it possible for companies to access all their data anytime and anywhere from every device. "And the most important thing is that it all happens with the privacy of the company in mind," said Ron Kooi, Founder of McCloud.
Storage Made Easy
offers a complete tool for synchronizing and sharing enterprise files. These files can be encrypted with a private key and shared through links that are password protected and only temporarily valid. SME is easy to understand for all users whereas it integrates with Active Directory for Single Sign-on.
The new service is available under the name McCloud Drive. "With this partnership we hope we can show companies that file sharing can be easy and secure and we hope to provide many of them with a, long searched for, unique sharing tool," concluded Ron Kooi.
About McCloud:
McCloud, based in the Netherland, provides small and medium enterprises with sustainable and scalable services in the cloud. McCloud is the only provider in the Netherlands that offers a secure cloud platform based on three interconnected data centers.
More information can be found at: www.mccloud.nl
About SME Storage Made Easy:
Storage Made Easy is the trading name of Vehera LTD who has offices in the UK, USA and Switzerland. The SME solution allows IT to regain control of "cloud data sprawl" by unifying private/public company data and privately used employee cloud data solutions into a single converged infrastructure.
This can easily be managed and be used to set and enforce governance and audit controls for file access and sharing in addition to providing deep content search of indexed data. This approach provided a solution to the "shadow IT" conundrum and makes it possible for companies to find a balance between the protection of corporate data and employee data by allowing businesses to monitor, secure and audit all data silos, be they private or cloud or company or employee, from a single access point.
More information can be found at www.StorageMadeEasy.com