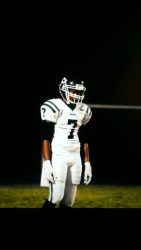 Minneapolis, MN, July 23, 2014 --(
PR.com
)-- St. Paul, Minnesota native and local defensive back, Michael Griffin from Park Cottage Grove High School class of 2016 impressed NFL level coaches at the "invitation only" Football University "TOP GUN" Showcase held in Dublin, Ohio this past weekend (July 17-19). Michael Lewis Griffin was invited to TOP GUN based off his outstanding performance at the FBU Twin Cities Regional camp. He joined more than 850 of the nation's top athletes at their position and trained with current and former NFL players and coaches. Michael Griffin has received recognition after having a good showing at the camps.
Mike Ulatoski of 247sports.com wrote, "Michael Griffin emerged as one of the elite athletes in attendance immediately. Simply a natural athlete, Michael has explosive feet and hips, plays zone coverage with authority and can break on the ball with the best of them."
25% of the athletes that have attended one of Football University's 30 regional camps were invited to compete at TOP GUN. This national showcase gathered the most elite performers from across the United States and allowed them to compete and display their abilities together on one stage. Football University had an impressive alumni list that includes some of the top college football recruits and players in the nation. Headlining the TOP GUN Showcase were quarterbacks coach Jeff Rutledge, former quarterback coach of the Arizona Cardinals; wide receiver coach Billy "White Shoes" Johnson, offensive line coach Jim McNally, who is considered the best offensive line coach in the game; defensive back coach Ray Buchanan; and wide receiver coach Charlie Collins, who is considered one of the finest receiver coaches in the game.
About FBU
Football University is an invitation-only experience for the serious football player, focusing on teaching technique and skill in a small-group setting with other elite athletes. Modeled after NFL mini-camps, each camp includes 18 hours of training and development - both on the field and off the field - including film study, classroom testing, and access to hi-tech equipment, all under the professional tutelage of former NFL players and coaches. Football University travels to the United States to train players hand-picked by the organization's network of regional directors and scouts.