A World War II Veteran, a Watch, and a Wish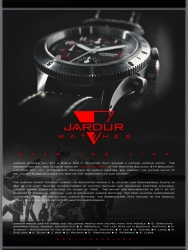 New York, NY, July 24, 2014 --(
PR.com
)-- Jardur Watches will gift a World War II Helldiver Navy gunner a vintage Jardur watch. The presentation will take place at noon on August 16, 2014 at the McIntyre Building, 874 Broadway, New York City, NY. CC Shermer, President of Jardur Watches, will present the vintage watch to Mr. Julian Russo to honor his service and commitment to our country.
Mr. Shermer and Mr. Russo became acquainted on April 12, 2014 when Russo phoned Shermer regarding a Jardur watch he wore throughout his service in WWII. During the conversation, Mr. Russo explained that he purchased a Jardur tool watch during the war at a U.S. Navy Ship Store. He stated, "I loved my watch. It served me well over Iwo Jima. I just wish I still had it." Russo then explained that someone took it from a bathroom wash basin sometime after the war. During the conversation, Shermer noted that Russo was still very upset over the loss of the watch. "When he spoke about his Jardur, he sounded like a person reflecting on an old friend," said Shermer. Russo expressed that he would love to find and wear another Jardur watch again.
Russo's sentiment sent Shermer into action. He reached out to his network of watch collectors and found a vintage Jardur the same model as Mr. Russo's lost watch. "I think it will be awesome to present Julian with a vintage Jardur tool watch like the one he wore over Mt. Suribachi. Hopefully, this gift to Julian will be the ultimate 'Thank you for your service!'"
87 year old Russo, who resides with his wife of 67 years in East Islip, New York, will meet CC Shermer at the McIntyre Building for the presentation of the watch. Shermer stated, "The location of the presentation was very important to me. I chose the McIntyre Building because that is where the Jardur Import Company was established in 1937."
The Jardur Import Company earned its reputation among U.S. military and professional pilots as one of the most trusted manufacturers of aviation watches and navigation plotters available. Jardur Import Company closed its doors in 1960. The brand was resurrected in 2011 by CC Shermer of Missoula, Montana, and is now named Jardur Watches. The first aviation chronograph launched under the revitalized Jardur Watches, the Degreemeter, pays homage to the original World War II era Bezelmeter 960 aviation chronograph.
Contact: CC Shermer
Phone: 406.396.1342
Email: chris@jardur.com
Contact
Jardur Watches
CC Shermer
406-396-1342
jardur.com

Contact