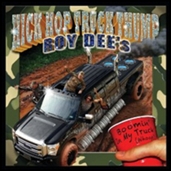 Houston, TX, July 30, 2014 --(
PR.com
)-- Roy Dee naturally blends Rock, Country and Rap to create a breakout hybrid of genres called Hick Hop which is making noise in the both the Country and Rap worlds.
Roy Dee's new album, titled, Hick Hop Truck Thump hits the street on August 19 with a track list featuring performances by Paul Wall, Tow Down, BubbaSparxx, Fred Durst and Dirty Ken.
Roy Dee honed his skills while performing in clubs throughout North Carolina while attending NCSU, North Carolina State University and NCCU, North Carolina Central.
"It felt like putting on a hat that was too small," said Roy about the industry categorizing him as just Hip Hop. His moniker is Po' White Trash and the Trailerpark Symphony.
When Colt Ford and Shannon Houchins opened the doors to Average Joe Entertainment, Roy was caught off-guard, "I was so out of touch. I just thought skinny jeans and rubber sunglasses with no lenses were the thing... it was all very confusing!"
Within a month, Roy banged out Hick Hop Truck Thump complete with 15 tracks and a trailer park full of guest artists. "Roy Dee's music will be the rolling anthem of tailgates and mud parks across the country," says Bill Walker, President of Thump Records. "From clubs in Houston to pool parties in Vegas, Hick Hop Truck Thump will keep your body moving! One listen and listeners will be hooked!"
Highlights from Hick Hop Truck Thump include:
"Boomin In My Truck (Whoop)" - The music video was shot at Michael Berry's (the voice of News Radio 740 KTRH) exclusive Redneck Country Club.
"Crazy like a Fox" - Features the snare pounding of Keith Moon's (The Who) and is now playing in clubs from Houston to Las Vegas.
"Stop by the Woods" - Produced by Tow Down, blows bluegrass out, a bounce track with Paul Wall, Bubba Sparxx, Tow Down and Fred Durst.
"Shake, Shake, Shake" - The Redneck "Blurred Lines" with an 808 Two Live Crew sound. There are no apologies in this new genre called Hick Hop.
"KOA" and "Altadena" - True country tracks mixed by Grammy Award winning Producer and Mixer, Ernie Wells that will take you on a journey to watering holes with no poles.
Roy Dee is currently signed to Los Angeles-based Thump Records, a label with 25 years of genre influenced innovation. Thump Records has a long-time partnership with Universal/Caroline. Thump Records provides the perfect catalyst for Roy's hybrid style.
Catch Roy hanging out of his F-350 Limousine through the moon roof when he rolls through your town. Like Roy says, "I'm the Redneck Diddy... Why put on a hat that doesn't fit… I'll make my own."
Check out the video:
youtu.be/BDyTQ5WazHw
For more information about Thump Records:
www.thumprecords.com
Bill Walker President Thump Records
bwalker@thumprecords.com