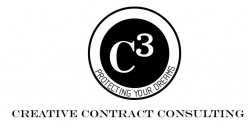 New York, NY, July 29, 2014 --(
PR.com
)-- The legal consulting arm of Nightlife Publishing is planning to offer new services in the wake of this year's San Diego Comic Con. Creative Contract Consulting, or C3, will now provide legal analysis and drafting services for all aspects of both freelance and independent entertainment contracts.
The comics and self-publishing industries have both grown in recent years to become major forces in entertainment. Intellectual properties based on comics now dominate the film, television, merchandise, and video game markets. Self-published writers now account for millions of dollars in book sales and their numbers become more significant each year.
This increase in popularity comes with greater financial opportunity for the writers and artists who create these characters and stories. Unfortunately, many of them can't reap the rewards of their creativity because they do not understand the legal aspects of the entertainment industry.
Gamal Hennessy, Esq., the president of Nightlife Publishing and principal attorney for C3, wants to help artists protect their rights by helping them understand the contracts they sign. "Creators often give up complete financial and legal control of their work because they don't understand contract language. C3 gives them the insight to understand the real world implications of confusing legal terms. We help them navigate the legal side of creativity, so they can focus on their craft."
The ultimate purpose of C3 is to protect the dreams of artists, writers and other independent creators. Mr. Hennessy said, "Our goal is to educate our clients and create legal documents to enhance their careers at prices they can afford."
For more information, contact Gamal Hennessy at gamalhennessy@gmail.com
About C3:
Creative Contracts Consulting (C3) is a service based in New York City. Created in 2004, the company has over ten years in contracts, licensing, and independent publishing experience. C3 serves a diverse array of clients in the comics, merchandise and publishing industries. It also supports the publishing and media related activities of its parent company, Nightlife Publishing LLC.