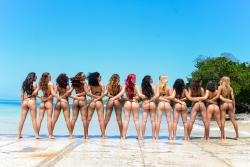 Negril, Jamaica, July 31, 2014 --(
PR.com
)-- The summer is being kept alive in Negril, Jamaica this year as the tropics gear up for the "Miss Hedonism II Bum-Delicious" pageant - a contest that aims to find the best butt in the world. From Aug. 31 to Sept. 7. the competition will drive crowds from all over the globe to one of the most well-known adult all inclusive resorts in the world—
Hedonism II
. The event coordinators at Hedonism II have already been fielding applications from ladies of all ethnicities and ages, all laying claim to the right of most delicious bum!
"In general, we have a thing with bums," said the Managing Director of Hedonism II, Kevin Levee, noting that "bum" is a very common word used to refer to someone's rear end. He continues, "We are very excited that this pageant has been getting so much attention. We've been getting several inquiries and submissions… even as far as Columbia and Brazil. It's a good look for Hedonism."
The lovely ladies will participate in several tropical-inspired events from beach and bikini activities to photo shoots. The competitors will also participate in various theme nights and social events. At the adult all inclusive resort, theme nights range from Pasties & Lingerie at Club Hurricane, the Tight in White Foam Party, Talent Show night, and, lastly, Rock Star Night, where individuals can impersonate and party like their favorite rock star.
"The ladies and those sharing the moments with us during that time will be in for an unforgettable experience that they won't be able to get elsewhere," chimed the Managing Director.
The women will compete in challenges centered around different outfits ranging from bikini and lingerie, to pumps & pasties, to a final beach outfit. Truly unique fashion shows and beach raves will accentuate the competition. And the winners? Ms. Bum-Delicious 2014 will receive a cash prize of $1,000 US, a return vacation for a week and a feature in a major US Magazine. Her first runner up will get $750 US plus a five-night vacation for two. The second runner up will win $500 US and a three-night stay for two at Hedonism II.
To enter, participants must be 18 years old and submit two recent full body and face photos to leethangrandison@hedonism.com. After that, Hedonism II will select the top 20 women to move on to the bum parade finals. Here, they will be scrutinized by a panel of judges who will then award one final contestant the crown and title of Ms. Hedonism II Bum-Delicious 2014.
To learn more about the hottest spot for adult vacations or this season's sexiest pageant, go to hedonism.com,
facebook.com/HedonismJamaica
or
twitter.com/HedonismJamaica
.