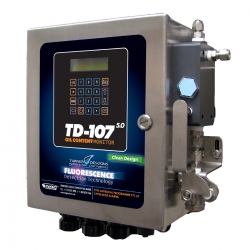 Fresno, CA, August 05, 2014 --(
PR.com
)-- The new TD-107 5.0™ DNV Clean Design Certified 5 PPM Bilge Alarm measures oil in water and is not adversely affected by solids. Modeled after the highly successful original TD-107, the TD-107 5.0 uses Turner Design Hydrocarbon Instruments' signature Fluorescence measurement technology that can be universally applied to bilge water monitoring. Other features of the TD-107 5.0 include:
- Fluorescence detection technology resistant to interferences from turbid or dirty water that impact light scatter devices.
- Fluorescence detection ensures that the Oily Water Separator is not 'fooled' into staying in recirculation mode by false positives caused by silt, rust, bacteria, or other solids.
- On-board validation of operation at any time via liquid injection port.
- Includes standard alarm relays and 4-20mA output for remote monitoring, along with user-friendly USB data port for review of recorded OCM data.
Turner Designs Hydrocarbon Instruments, Inc. of Fresno, CA has teamed up with NAG Marine of Norfolk, VA for exclusive worldwide sales and service to the marine industry for all bilge alarm applications. Contact sales@nagmarine.com or phone +1-800-830-5186 or +1-757-852-3998·