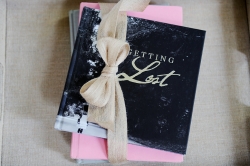 Upper Marlboro, MD, August 05, 2014 --(
PR.com
)-- What do Dove, Proctor & Gamble, Beyonce and JaTawny M. Chatmon have in common? They're all (independently of each other) making it their business to begin initiatives empowering our girls.
Through the medium of photography and inspirational words, JaTawny M. Chatmon feels compelled to bring home to our daughters that they need to make the most of life.
"Getting Lost" by Photographer/Author JaTawny Muckelvene Chatmon is a collection of black and white photographs taken over the span of three years; coupled with writings from a mother to her daughter. Written with daughters of all ages in mind, the book explores the ideas of life and what it means for girls to find the right direction for themselves.
"Getting Lost" is moving and life affirming. The author doesn't see herself as some sort of life coach or guru, but simply as a mother with a desire to raise a generation of "freethinking, decent, positive and brave children."
"I don't want my children to follow the crowd, I don't want them to be 'robots', I want to encourage them to make their own paths and follow their own hearts," says the author. "There are so many other mothers who want the same."
Mrs. Chatmon proves her point in voraciously embracing life and spending her life working on photography projects near and dear to her heart.
Her work has been featured in Vogue Bambini, British Vogue, Babiekins Magazine, Parenting Magazine, Babytalk Magazine, National Education Association, YMCA, National Center for Missing and Exploited Kids, Until There's a Cure Foundation Warriors Fighting for His Cure & more.
About JaTawny Muckelvene Chatmon
JaTawny M. Chatmon was born in Japan and grew up an 'army brat'. She had the unique opportunity to take in the cultures of three different continents all before the age of 12. By then she was in the United States and elbow-deep in her aunt's theatre company. It was during this time that JaTawny's passion for the arts blossomed. Her love of theatre, quite naturally led her to a love of photographs. She was mesmerized by the art that captured a whole story by the click of a camera.
Intent on "leaving something important behind," JaTawny has danced into the realm of authorship; offering up both sides of her vision, in works ranging from inspirational to incomprehensible.
"Getting Lost" is JaTawny's first book to be published by Chimerical Art Books. Additional titles such as "The Pulchritudinous Children of October Snow" and "RuRu & Rudy" are also scheduled to be released in 2014/2015.
She is currently working on other book projects with her three little co-workers, also known as her children. She spends her spare time photographing homeless families and donating clothing, food and prints through her photography project "Project Altruism."
To view JaTawny's press page, go to:
http://chimericalartbooks.com/jatawny-m-chatmon-press-page/
To find out more about JaTawny, please visit her site at www.jatawnymchatmon.com
"Getting Lost" is available at Amazon.com
View this special message for our daughters https://www.youtube.com/watch?v=iLuzzC9BLKw (Getting Lost Book Trailer)