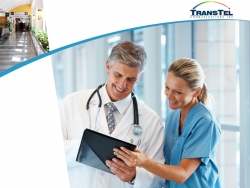 Jupiter, FL, August 08, 2014 --(
PR.com
)-- TransTel Communications, Inc. announced today that the TransTel Nurse Call System has received a 2014 M2M Telehealth Award from M2M Evolution Magazine, the leading publication covering the machine to machine movement.
The TransTel Nurse Call System is an innovative "industry first" TeleHealth solution that converges Nurse Call Stations, Patient Room Terminals and a highly scalable Hybrid IP Communication Platform.
TransTel's Nurse Call System (NCS) is designed to streamline communication between patient and caregiver by getting critical needs information to the right staff at the right time. This results in improved quality of care, patient satisfaction and reduced response times to deliver valuable and needed services to patients in any health care facility.
The TransTel Nurse Call System is an integrated communications platform that participates in "real time" workflow management mode along with your operations to deliver best in class services to your patients. The solution offers an array of patient room devices, master console monitoring head nurse stations, corridor lights for easy identification of patient needs as well as scrolling LED information panels. The Nurse Call System can also get critical information to mobile devices such as smart phones, pagers and cordless telephone sets.
Joe Morris, TransTel's President states; "Our Nurse Call Solution is innovative and unique in that we have taken an unified approach to integrating both telecommunications and nurse call capabilities in a single platform. The Global Ageing Demographics are undeniable and we believe Nursing Homes, Assisted Living Facilities, Outpatient Clinics, Hospitals and other Healthcare related services to be a growth market well into the next couple of decades. The TransTel Nurse Call Solution eliminates the need to purchase and maintain separate systems and is also a viable replacement for the existing installed base of expensive to maintain equipment currently installed. We are pleased to be at the forefront of this growth market ahead of us and in a position to provide a cost effective, fully integrated solution on a global basis."
"The solutions selected for the M2M Telehealth Award reflect the advancement of innovation driving the machine to machine telehealth market. It is my honor to congratulate TransTel Communications, Inc. for their innovative work and superior contribution to the rapidly evolving M2M industry," said Carl Ford, CEO of Crossfire Media, a co-publisher of M2M Evolution Magazine.
"It is my pleasure to recognize TransTel Nurse Call System, an innovative solution that earned TransTel Communications, Inc. the 2014 M2M Telehealth Award," said Rich Tehrani, CEO, TMC. "I look forward to seeing more innovation from TransTel in the future."
The winners of the 2014 M2M Telehealth Award will be published in M2M EVOLUTION MAGAZINE and on www.m2mevolution.com.
For more information, please visit www.tmcnet.com.
About TransTel Communications, Inc.
TransTel Communications, Inc. is a 22 year old company that develops, manufactures and distributes communications products and services to over 50 countries worldwide. Its headquarters is located in Jupiter, Florida USA. TransTel has operations and affiliated overseas offices in Taiwan, China, Australia, Indonesia and New Zealand. TransTel products are sold through authorized dealers.
Corporate website: http://transtelcommunications.com
Lodging Systems Website: http://transtelhotelsystems.com
Telephone: 561.747.4466
sales@transtelcommunications.com
info@transtelcommunications.com
About Crossfire Media:
Crossfire Media is an integrated marketing company with a core focus on future trends in technology. We service communities of interest with conferences, tradeshows, webinars and newsletters. Crossfire Media has a partnership with Technology Marketing Corporation (TMC) to produce events and websites related to disruptive technologies. Crossfire Media is a division of Crossfire Consulting, a full service Information Technology company based in New York.
About TMC
TMC is a global, integrated media company that helps clients build communities in print, in person and online. TMC publishes multiple magazines including CUSTOMER, INTERNET TELEPHONY, M2M Evolution and Cloud Computing. TMCnet is read by more than 1.5 million unique visitors each month, and is the leading source of news and articles for the communications and technology industries. TMC is also the producer of ITEXPO, the world's leading B2B communications event, as well as industry events: M2M Evolution; Cloud4SMB Expo; DevCon5; HTML5 Summit; Super Wi-Fi Summit, CVx; AstriCon; StartupCamp, and more. Visit TMC Events for a complete listing and further information.