What Would You Like to Know About Sharks? Ask the Shark Experts.
More than 50 of the world's top shark experts are allowing themselves to be auctioned to raise funds for shark conservation. Being auctioned are dinners (or lunches) with each. It is a unique opportunity to "talk shark" face-to-face, one-on-one, with a real authority on sharks!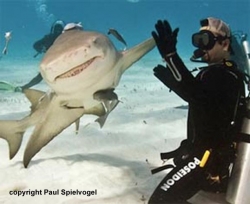 Princeton, NJ, August 11, 2014 --(
PR.com
)-- Shark experts and celebrities being auctioned include Chris Fallows, who studies and films the aerial acrobatics of huge white sharks off South Africa; Brad Norman, marine biologist and winner of the Rolex Award of Enterprise for his citizen scientist program - Ecocean; Dr. Gordon Hubbell, world expert on fossil shark teeth; microbiologist Dr. Jennifer Schmidt who has been uncovering the life history of whale sharks; Ralph Collier, a white shark expert and author of Shark Attacks of the Twentieth Century; Juliet Eillperin, veteran Washington Post journalist and author of Demon Fish; Al Brenneka founder of Shark Attack Survivors; Rod Roddenberry of Roddenberry Adventures; Lesley Rochat, filmmaker, conservationist and founder of AfriOceans; Donald Schultz, adventurer, television host, and shark advocate; Michael Aw, ocean activist, underwater photographer and publisher of Ocean Geographic magazine; Al Brenneka founder of Shark Attack Survivors; David McGuire, founder of Sea Stewards; Rod Roddenberry of Roddenberry Adventures; cultural anthropologist Patrick Nason; legendary filmmaker Jeff Kurr; underwater photographers Paul Spielvogel, Amos Nachoum, and Lynn Funkhouser; and Jim Toomey, ocean activist and creator of the syndicated comic strip Sherman's Lagoon.
These are just a few of the shark experts in the auction. Every one of them has a wealth of information to share with their highest bidder.
How it works: Bid on a shark expert or celebrity that lives or works nearby, unless you are willing to drive or fly to the expert's location. The winning bidder pays for the celebrity's meal, and may bring guests. Shark Research Institute will introduce each winning bidder to his or her shark celebrity. The two then set a date, time and place to meet within one year of the close of the auction.
The auction started Sunday evening, August 10th and will run throughout Shark Week. The easiest way to enter the auction is through the link on the Shark Research Institute's home page at
www.sharks.org
.
Shark Research Institute is a 501(c)(3) international multidisciplinary non profit. All winning bids (and donations) are tax deductible charitable contributions from US Federal 2014 income taxes.
Contact
Shark Research Institute
Marie Levine
609-921-3522
www.sharks.org

Contact