Arf-Arf Bebe Adds Summertime Collection to Growing Line of Dog Apparel
The boutique dog fashion designer Arf-Arf Bebe adds new collection of dog apparel and accessories for summertime.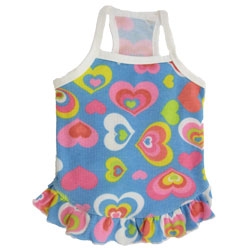 Los Angeles, CA, August 19, 2014 --(
PR.com
)-- Arf-Arf Bebe, a Los Angeles based boutique dog fashion designer and manufacturer, launched a new collection of handmade warm weather dog apparel. Designed with lightweight fabrics to compliment the loose fitting tank top, t-shirt and dress styles, the new designs provide excellent value for pet products made in the U.S.A.
"Arf-Arf Bebe is a growing name in the pet product industry largely because we can provide premium low-volume, hand made dog apparel at below typical boutique prices," said John Reynolds, Arf-Arf Bebe Product Manager. "Our Summertime collection was released to coincide with the dog days of summer so our fashions are full of complimentary summer design elements."
Following the Patriotic Puppy collection released in July 2014 with its emphasis on nostalgic, vintage designs, the Summertime collection returns to basics with simple, modern prints on lightweight cotton blends. Complementary accessories, such as the Yellow Spring and Jungle Bear barrettes are also available. All products are available immediately through arfarfbebe.com and distributors. All apparel fits small through medium breeds with additional sizes possible via the apparel customization service.
About Arf-Arf Bebe
Arf-Arf Bebe, located in Los Angeles, CA, is a boutique dog fashion designer providing premium handmade dog products and services to animal lovers around the world. Arf-Arf Bebe also provides assistance to other pet product vendors seeking to enhance their manufacturing processes.
Contact
Arf-Arf Bebe
John Reynolds
(626) 537-9027
https://www.arfarfbebe.com

Contact