Diamond D Ultra Impact Denture Acrylic Unveils Fracture Resistance Superiority, Coming in # 1 in Three Izod Strength Tests 3 Years in a Row
Diamond D Ultra Impact Denture Acrylic proves it makes the toughest to break or fracture denture.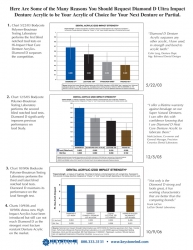 Cherry Hill, NJ, October 25, 2007 --(
PR.com
)-- Izod Impact Testing
(Notched Izod)
A2LA Accredited
ASTM D256 and ISO 180
Scope:
Notched Izod Impact is a single point test that measures a material's resistance to impact from a swinging pendulum. Izod impact is defined as the kinetic energy needed to initiate fracture and continue the fracture until the specimen is broken. Izod specimens are notched to prevent deformation of the specimen upon impact. This test can be used as a quick and easy quality control check to determine if a material meets specific impact properties or to compare materials for general toughness.
I've included the original Izod test we had performed at Bodycote Polymer-Broutman Laboratories during our beta testing in 2003 as well as the second Izod test we had them perform in December 2005 and finally our third test performed in October 2006.
In regards to the three Izod Impact tests that have been performed at Bodycote Broutman, the first Ref # 30000666 was done on 05-22-03 during the Beta testing of the Diamond D Denture Acrylic. The Second test, Ref # 30002570 was completed on 12-05-05 and the third, Ref # 3000551 was done on 10-09-06. As can be seen, we have become more proficient at manufacturing the Diamond D going from the 0.689 ftlbs/inch in 2003 to the 0.802 ftlbs/inch in 2005 and maintaining the impact integrity at 0.804 ftlbs/inch in 2006. All measurements in all three tests surpass the competition significantly. Note also the Standard Deviation on the notched specimens tested. Smaller deviation means tighter tolerances before failure, a significant characteristic.
These test results were generated by an independent, certified, polymer testing facility at Bodycote Polymer-Broutman Laboratory which is a nationally accredited laboratory through the American Association for Laboratory Accreditation for technical competence in the field of Mechanical Testing. (See http://www.a2la.org/scopepdf/0504-01.pdf )
All testing was done blind, with no brand identification.
Diamond D Ultra Impact Denture Acrylic is used by Dentists and Denture Clinics that specialize in Premium Dentures and Dentures for family members of the dental community.
Diamond D Denture Acrylic is made in the United States by Keystone Industries at their Cherry Hill Facility. It is available through Keystone Industries extensive world wide network of Dental Dealers. Request samples online now and see how you can use Diamond D Ultra Impact Denture Acrylic as a Practice Builder for Removable Prosthetics or have one sent to the dental laboratory you use.
Keystone Industries
www.keystoneind.com
crogers@keystoneind.com
800 333-3131
###
Contact
Keystone Industries
Carl Rogers
800 333-3131
www.keystoneind.com
Carl Rogers
Keystone Industries
Dental Acrylics
616 Hollywood Ave
Cherry Hill, NJ 08002
Fax No 856 663-0381

Contact
Multimedia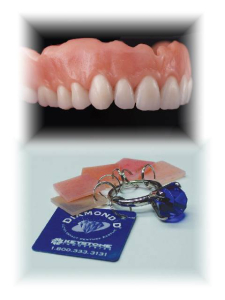 Front to Back Diamond D Dark Veined Shade Tab Diamond D Original Shade Tab Diamond D Chroma-Essence Shade Tab Diamond D Light Reddish Pink Shade Guide Diamond D Light Shade Tab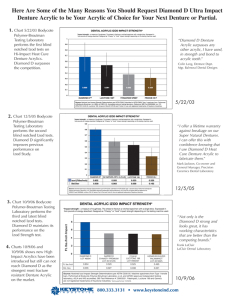 Test results fot the three notched Izod tests done at Bodycote Polymer Broutman Laboratories