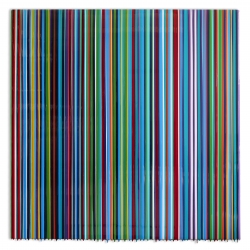 Dallas, TX, August 22, 2014 --(
PR.com
)-- For the 2014 Fall art season premiere, Laura Rathe Fine Art announces the duo artist exhibition "Technicolor" featuring the latest series of works by renowned metal sculptor, Matt Devine, and contemporary resin, mixed-media painter, Gian Garofalo, in an opening reception on Saturday, September 6th from 5-8pm.
The "Technicolor" collection is on display through October 4, 2014.
About The Artists
Matt Devine is an exceptional metal sculptor and self-taught artist. Devine began honing his metal fabrication skills in 1995 and transitioned to full-time sculpting in 2001. His nonrepresentational sculptures are known for their clean and harmonizing aesthetic, which often seem to defy gravity. Devine's artwork is seamless and evokes weightlessness, yet is fabricated using heavy metals such as steel, aluminum and bronze. Repetition of form, placement and minimalistic patterns create a sense of balance and harmony in his work.
Devine's sculpture is currently on display at highly-regarded fine art galleries across the country. His creations can be found in private American collections in locations ranging from Los Angeles to New York and international collections on five continents. Devine has expanded his scope to include design and fabrication of large-scale public works on display in prominent urban settings.
Gian Garofalo is a visual, multi-disciplinary artist who explores color and technique through the application of resin and pigments. Inspired by several contemporary artists, including Gene Davis of the Washington Color School, Garofalo meticulously applies resin to panel, creating stripes that slowly gravitate to the base, ultimately punctuating the work with intriguingly suspended paint droplets.
Garofalo, who currently resides in Chicago, Illinois, has exhibited widely in the United States. Most recently, examples of his work were included at Scope New York, SOFA Expo Chicago, and Houston Fine Art Fair. Garofalo is represented in public and private collections. These works often consist of a wide spectrum of colors where each individual stripe is an equally important and unique contribution to the piece as a whole. I hope that my work can evoke emotion and bring out curiosity in the viewer This current series of work is inspired by the works of Ian Davenport, Gene Davis and Markus Linnenbrink.
About Laura Rathe Fine Art
Formally established in Houston in 1998, Laura Rathe Fine Art represents a dynamic artist roster including mid-career, as well as blue-chip contemporary artists. With a primary focus on abstract expressionist painters, LRFA also represents and displays a diverse and select group of sculptors, photographers and new media artists.
Located in the heart of the gallery and design districts of Houston and Dallas, Texas, LRFA regularly hosts artist exhibitions, lectures, and art walks that serve as an integral part of the expanding art scene and community across Texas. LRFA provides art consultation services to private and corporate collectors and to the design industry.
For additional information, details or to schedule an interview, please contact 214.761.2000
Janice Meyers, Director Janice@LauraRathe.com
Courtney Feavel, Assistant Director Courtney@LauraRathe.com