Wealth DNA Radio Show Special Guest Alexander Green, Author of "An Embarrassment of Riches" Shares His Refreshing Perspective on Investing and Wealth 8/25/14 9:00 AM AZ
Alexander Green, author of 4 best-selling books on investing, as well as editor of 3 investment newsletters, also serves as the Chief Investment Strategist of The Oxford Club and Investment U.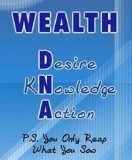 Buckeye, AZ, August 22, 2014 --(
PR.com
)-- With financial markets rising to record highs while the world is in turmoil, is this an indication that investors are out of sync with the real world? Can this bull market continue to stampede despite all the bad news? What can we expect over the next 1, 5 or 20 years?
Entrepreneurs and investors are by nature optimists. If we weren't optimistic, we wouldn't risk our time and capital, neither financial nor intellectual on uncertain ventures. On the other hand, we're bombarded daily by bad news from every media outlet and from naysayers, thus challenging our natural optimism. Is the glass half empty, half full, or merely twice as large as it needs to be?
Wealth DNA Radio Show is broadcast on Blog Talk Radio and discusses a wide variety of financial topics, airing the 2nd and 4th Monday of each month at 9:00 AM Arizona Time. Listen to show archives or see topics of upcoming shows at www.WealthDNA.us. Connect with the show on Facebook at facebook.com/WealthDNA or Twitter @TheRonald.
Contact
Wealth DNA radio
Ron Nawrocki
602-904-5626
www.WealthDNA.us
Quickest is via e-mail

Contact