There's Something New About the August Issue of New Jersey Stage Magazine
The August 2014 issue of New Jersey Stage magazine is the first to have advertisers take advantage of the ability to change their ads each week.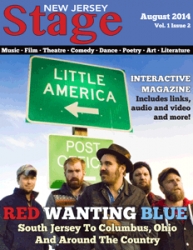 Belmar, NJ, August 26, 2014 --(
PR.com
)-- With the click of a button, the August 2014 issue of New Jersey Stage magazine was changed, and the publication continued its quest to make advertising more effective than ever before. Traditionally, ads in monthly magazines were placed once and the same ad was shown to readers on the first day as the last. With this issue, New Jersey Stage merged the power of an ever-changing weekly ad into the monthly advertising realm thanks to the digital medium.
"The ability to change your ad each week is hugely important to venues," explained Gary Wien, publisher of New Jersey Stage. "Shows are added and cancelled each week. Thanks to the digital magazine format, we can now ensure that their ads are promoting upcoming shows rather than events that took place weeks ago. For advertisers, it's like getting four ads for the price of one since we only charge them for their original full-page ad."
"The first advertisers to change their ads were Uncle Vinnie's Comedy Club in Point Pleasant and The Saint in Asbury Park," said Wien. "Both venues utilize videos and links in their ads to show upcoming performers. We encourage the use of audio and video because it helps get people interested in the ads. Instead of simply turning the page, people actually want to see the videos to learn about the artists. This makes the advertising more effective."
New Jersey Stage is offering the ability to change full-page ads for the standard $100 rate. This includes a full-page color ad with links and the ability to include audio or video within the ad. In addition, all full-page ads get placed in rotation on NewJerseyStage.com reaching tens of thousands of additional viewers.
The August 2014 issue includes features on Red Wanting Blue, Jon Bon Jovi & the Kings of Suburbia, Stormin' Norman Seldin, Eric Deggans of NPR, Jennifer Harmon (starring in "Blithe Spirit" at Cape May Stage), playwright Tom Matthew Wolfe (author of "Janice Underwater" at Premiere Stages), film reviews of "The Expendables" and "What If", and a review of the Paul Cezanne exhibit at the Barnes Foundation. In addition, the magazine includes videos by Ed Tang & the Chops, John Raido, and J. Sales; poetry by Mark Brunetti, dance news, a column on music by Rosemary Conte, an original cartoon, and photo galleries of "The Alchemist" and "Zorro!"
All issues of New Jersey Stage are available at http://www.njartsmag.com - the magazine is viewable on a PC, tablet, or even a smartphone. It can also be downloaded and read offline. The next issue will be available on September 15.
About New Jersey Stage
New Jersey Stage is a daily website and monthly digital magazine covering the arts throughout the Garden State. It is published by Wine Time Media. For more information visit http://www.newjerseystage.com
Contact
Wine Time Media
Gary Wien
732-280-7625
www.winetimemedia.com

Contact