News Channel 4 - KFOR.com and K9 University Partner to Help Dog Owners
In order to better help clients with canine behavior issues, K9 University, provider of dog behavioral training has announced a partnership with News Channel 4 - KFOR.com.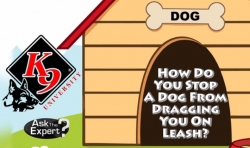 Oklahoma City, OK, August 29, 2014 --(
PR.com
)-- K9 University recently announced that News Channel 4 - KFOR.com and K9 University have entered into an agreement to become KFOR's "Ask The Expert" resource when dealing with dog related matters. News Channel 4 - KFOR.com is the leading provider of news and weather in Oklahoma, with over 3-million unique visitors accessing KFOR.com each month.
News Channel 4 signed on June 6, 1949 and has been delivering news to Oklahomans for over 65 years of broadcasting excellence. KFOR-TV eventually became the first station in the country to introduce color Doppler weather radar and in the 1990s, becoming the first television station to broadcast pictures and video of severe weather via cell phones. KFOR.com was registered by KFOR on August 21, 1995.
K9 University's training tips and expert advice will be located on
KFOR's Ask The Expert
website page, and will also be featured on News Channel 4's Facebook and Twitter pages. "We have an excellent training program at K9 University, and partnering with News Channel 4 - KFOR.com is an excellent way to educate Oklahomans on how to properly help their furry friends," says Angel Soriano, President and CEO of K9 University. "Most dog behaviors are fixable, and understanding how to communicate with your dog is critical in addressing issues."
As a result of this agreement, interviews will be filmed where classical canine behavioral will be covered by K9 University's experts, and then made available to viewers on KFOR's website.
In addition to dog training,
K9 University
also provides a host of first class products such as Boarding School,
Drug Dog Detection Services
,
Dog Bite Safety
and severe behavior curving. Through a patented versatile and adaptable approach to working with dogs and their owners, K9U has set the industry standard for achieving positive, sustainable results that can be used over and over again to bolster the behavioral learning process. K9U trainers are long-term career animal professionals and behaviorists with a combined 90 years of experience.
About K9 University (www.myk9u.com): K9 University is an educational institution focusing on dog training needs from the very basic to advanced and specialized training for problem dogs, dogs suffering with complex conditions, behavioral issues, and dogs that simply have bad habits.
For more information visit the web site at www.myk9u.com, or call (405) 231-4335.
Contact
K9 University, LLC
Angel Soriano
405-231-4335
www.myk9u.com

Contact