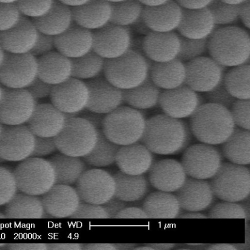 Santa Barbara, CA, September 03, 2014 --(
PR.com
)-- In an effort to provide customers in the nanotechnology industry with specialty nanomaterials, Cospheric LLC has added a selection of highly precise and spherical
monodisperse silica nanospheres
to their broad product line and launched
CosphericNano
– a website dedicated exclusively to nanospheres and nanoparticles.
Scientists are always pushing the limits of what's possible and are constantly looking for smaller and more precise products and equipment to enable the next generation technology. Advances in nanomaterials is what enables this progress. Nanoparticles have dimensions of no less than 1 nanometer and no greater than 1000nanometers (1 micron). Nanospheres are specialized highly spherical nanoparticles.
Silica nanoparticles (nanospheres) and silica microspheres are now available in distributions of less than 10% CV in the sizes of 0.25 micron, 0.5 micron, 0.62 micron, 1 micron, 4 micron and 8 micron. Each product is extensively characterized under SEM (scanning electron microscope) to ensure perfect sphericity of each nanosphere and tight particle size specifications.
Selection of
Silica Nanospheres and Nanoparticles
are available:
SIO2MS 0.25um (250nm) <10% CV
SIO2MS 0.48um (480nm) <10% CV
SIO2MS 0.62um (620nm) <10% CV
SIO2MS 1.15um <10% CV
SIO2MS 3.8um <10% CV
SIO2MS 7.8um <10% CV
SIO2MS 4-6um (2-19um range)
Dry precise monodisperse silica nanospheres are frequently used for biotechnology applications, sintering, microfluidics, electronics, optical coatings, spacers and other high tech applications. Silica nanospheres and microspheres are offered as free-flowing white powder and have an exceptional degree of roundness: >99%.
Large selection of products is in stock. Most orders ship the same business day.
About Cospheric LLC:
Cospheric LLC develops, manufactures, and distributes high-quality microspheres and nanospheres in sizes from submicron to 7000 micron (7mm). Cospheric specializes in polyethylene microspheres and carries a large stock of polyethylene microspheres in many colors, fluorescent, phosphorescent, neutrally-buoyant, and paramagnetic properties. Cospheric also offers a selection of soda-lime and borosilicate glass, silica, metal-coated, and titanium dioxide-coated spheres, some available in spacer grades with very tight particle size distributions. Cospheric welcomes inquiries for custom manufacturing of microspheres and nanospheres tuned to each customer's unique specifications.
For pricing and to browse a full list of products visit
www.cospheric.com
or
www.nanospheres.com
.
For further information please contact:
Yelena Lipovetskaya
Cospheric LLC
805-687-3747
info@cospheric.com