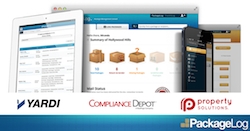 Orlando, FL, September 08, 2014 --(
PR.com
)-- PackageLog™, (powered by Logware™) announces its successful deployment of automated electronic data interface with Property Solutions' Entrata™, the industry's first single, open property management software platform. This interface provides an automated exchange of resident information to facilitate accurate and consistent package management and resident communications.
PackageLog™ has collaborated with Property Solutions to provide convenient access and easy setup through their centralized Entrata™ App Store. By simply clicking the PackageLog™ icon within the App Store, you can now launch and explore your PackageLog™ account from the same place you use Property Solutions. Automating the exchange of resident information between systems delivers greater accuracy of information, especially for move-ins/ move-outs and allows property managers the opportunity to more easily communicate with residents via email or text-message.
According to FedEx and UPS, package volume continues to increase each year primarily due to a 15% annual increase in online shopping. Projections indicate an additional 45 percent increase in package shipping by 2017.
"Our goal is to find innovative ways to create more time for property managers, while solving the critical challenges they face on a daily basis, and this integration is another step in that direction," comments Gustavo David Ortiz, Director of Software Operations.
"We couldn't be more pleased with the ease of this integration." -Craig Meddin, CEO
About Logware™
Logware™ is the software division of The Postal Solutions Companies headquartered in downtown Orlando, Florida. Postal Solutions has a 15-year history of providing mail and package delivery management services to the multifamily industry throughout the United States.
TrackItLog™ (
www.trackitlog.com
), a sister software to PackageLog™ also fully integrates with Property Solutions. TrackItLog™ is designed to track property assets and inventory from lease expirations and parking spots, to appliances and equipment.